Do you want to display a beautiful organizational chart on your WordPress site? Org charts are helpful in showing the company hierarchy and introducing users to the team running the business. In this article, we will show you how to create a company org chart in WordPress.
What is an Organizational Chart and Why is it Important?
An organizational chart present a company's hierarchical structure based on job title and responsibilities, from top management to the executives.
It helps improve your brand's reputation by showing the human side of your business. At the same time, it also allows users to find who they should contact for various business opportunities, feedback, and suggestions.
That being said, let's take a look at how to easily create and manage a company organization chart in WordPress.
Creating an Organization Chart in WordPress
First thing you need to do is install and activate the Easy Org Chart plugin. For more details, see our step by step guide on how to install a WordPress plugin.
Upon activation, you need to visit Easy Org Chart » Add New from your WordPress admin area to create a new org chart.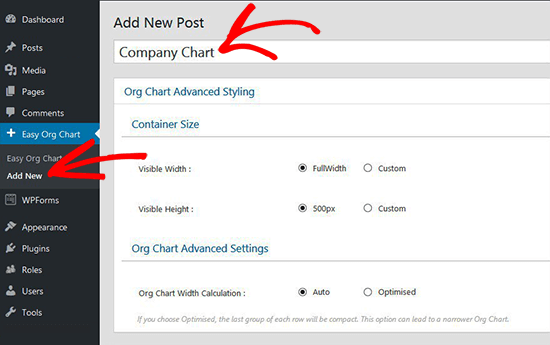 First, you need to provide a title for your chart. After that, your need to scroll down to the Build your Org Chart section to start adding team members.
In the first column, you will need to add details of your team members like their name, job title, profile picture, and contact information.
Next, you need to click on Add a person button to add another team member. Go ahead and repeat the process to add all team members that you want to show in your org chart.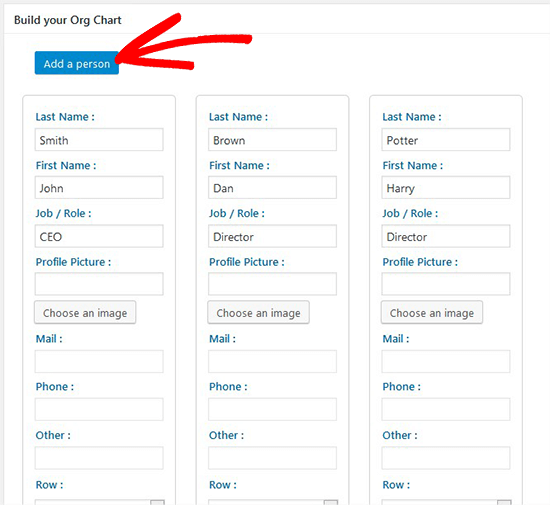 You can drag and drop team members to the right or left in the WordPress admin area. You will also need to define the upper hierarchy and row number for each team member according to your company's hierarchical structure.
After adding team members, you need to scroll down to advanced styling section. From here, you can configure how the chart should appear. You can choose the container size, corners, background color, box template, field styling, and more.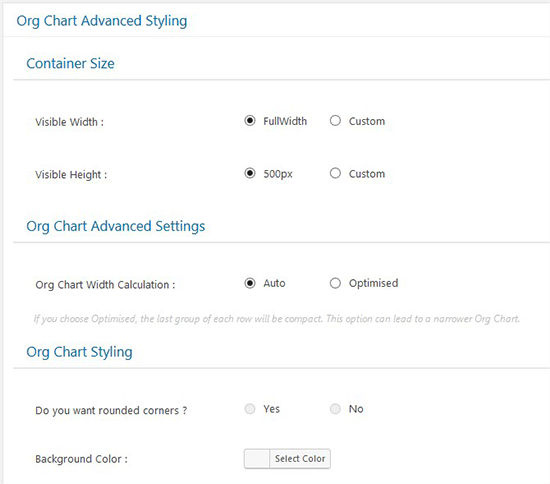 Once you are done with styling, click on the Publish button to save your changes.
To display your org chart on your website, you need to visit the Easy Org Chart page in WordPress admin to copy the shortcode.
You can now paste this shortcode in any WordPress post, page, or sidebar widget to display your organization chart.
It would be a good idea to add a contact form below your org chart in WordPress. We recommend using WPForms because it's the best contact form plugin in the market. They also allow users to select recipients in WordPress contact form.