Recently one of our readers asked if it was possible to create a BuzzFeed like website using WordPress? BuzzFeed is one of the most popular websites on the internet known primarily for its viral content. Its success has inspired many bloggers to follow the same model. In this article, we will show you how to easily create a BuzzFeed like website using WordPress.
Why Start a BuzzFeed Like Website?
BuzzFeed is one of the most popular websites on the internet. Popular for its quizzes, listicles, and pop-culture commentary, the website has grown into a massive media company with annual revenue of $250 Million in 2016.
BuzzFeed represents a successful business model that many aspiring bloggers and entrepreneurs can follow. It allows you to make money online while showcasing your creativity and offering value to your users.
What Do You Need to Build a BuzzFeed Like Website?
First, you will need to choose the right platform. There are plenty of blogging platforms that you can choose from, but we recommend using WordPress because it is the world's most popular website builder and content management system.
Fun fact: WordPress powers over 30% of all websites on the internet.
When we say WordPress, we are talking about self-hosted WordPress.org and not WordPress.com. They are two different platforms. See our article on WordPress.com vs WordPress.org for a side by side comparison of two platforms.
We recommend using WordPress.org because it gives you full control, ownership, and freedom to build your own BuzzFeed like website. To learn more, see our complete WordPress review.
There are three things you will need to make a website like Buzzfeed:
A domain name – This will be your website's address and what users will type in their browsers to see your blog. (For example, wpbeginner.com)
Web hosting – This will be your website's home and where you will store all your website files
Your undivided attention for 40 mins
Yes, you can make a BuzzFeed like website in 40 minutes, and we will walk you through it every step of the way.
In this tutorial, we will cover the following:
How to Register a Domain Name for Free
How to Choose the Best Web Hosting
How to Install WordPress
How to Find the Perfect BuzzFeed like Theme (website design)
How to Add BuzzFeed Like Content to Your Blog
How to Get More Visitors to Your Viral Blog
How to Make Money from Your Viral Blog
Resources to Learn WordPress Grow your Blog
Ready? Let's get started.
Setting up a BuzzFeed Like Website Using WordPress
First, you will need to register a domain name and purchase hosting.
Normally, a domain name costs $14.99 / year and website hosting $7.99 per month which is usually paid annually.
If you are just starting out, then this is quite a lot of money.
Thankfully, Bluehost has agreed to offer WHOOPS.ONLINE readers a free domain name, free SSL certificate, and a 60% discount on hosting.
Basically, you can get started for $2.75 per month.
→ Click Here to Claim This Exclusive Bluehost Offer ←
Bluehost is one of the largest hosting companies in the world, and they are an officially recommended WordPress hosting provider.
Note: At WHOOPS.ONLINE we believe in transparency. If you sign up with Bluehost using our referral link, then we will earn a small commission at no extra cost to you (in fact, you will save money and get a free domain). We would get this commission for recommending just about any WordPress hosting company, but we only recommend products that we personally use and believe will add value to our readers.
That being said, let's move on to setting up your domain name and hosting, so you can start building your website.
First, you need to visit the Bluehost website and click on the 'Get Started Now' button.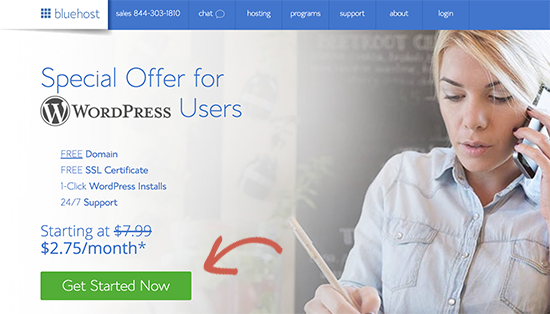 Next, you will be asked to select a plan. Basic and Plus plans are popular among our users.
After that, you will need to choose a domain name for your website.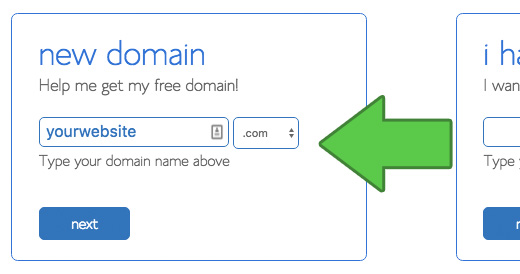 Some tips on choosing the best domain name for a BuzzFeed like website.
Need more advice? See our guide on how to choose the perfect domain name for your website.
After choosing your domain name, you will enter your account information such as name, address, email, etc.
Below that, you will see some extra hosting options that you can purchase. We don't recommend purchasing these extras because they will increase your hosting bill. You can always add them later if needed.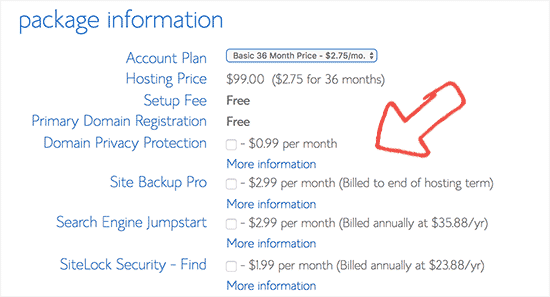 Next, you will need to add your payment information to finish the purchase.
After that, you will receive an email with a link to your hosting control panel and login details.
Installing WordPress
Bluehost will automatically install WordPress for you, and you will be able to login to your WordPress site directly from the hosting dashboard.
Once logged in, you will see the WordPress admin area. From here you will manage your website, change content, and add content.
Choose a BuzzFeed Like Design for Your Website
By default, WordPress comes with a very basic theme which doesn't look anything like BuzzFeed.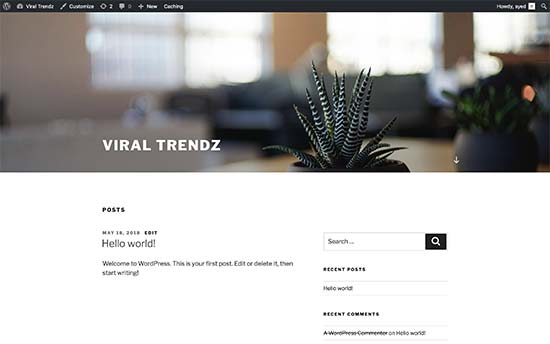 Luckily there are thousands of pre-made WordPress multi-purpose themes that you can choose from. We have hand-picked a few WordPress themes designed for viral content and BuzzFeed like websites.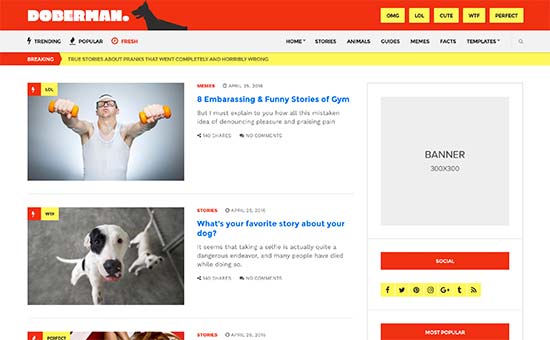 Doberman is the perfect WordPress theme for BuzzFeed like viral content websites. It boosts user engagement with techniques used by viral content websites like social counts, trending content, popular posts, custom reactions, social sharing prompts, and more.
It has over 80 customization options allowing you to use your own colors, layouts, and styles. You can make it uniquely yours without writing any code. It also includes 1-click installation of demo content, after which you can simply go ahead and replace content with your own.
SociallyViral is another excellent WordPress theme designed specifically for viral magazine websites. It includes social shares, social media icons, trending posts, social integrations, Google AdSense placements, and more.
It has built-in 'load more posts' function with 4 different styles, email subscription box, and a featured post section on the top. It is highly optimized for SEO with Schema rich snippets support.
Noozbeat is a beautifully designed WordPress theme made for content-rich websites like online magazines and newspapers. It comes with dedicated spots to display ads on your website.
It also includes multiple layouts for homepage, categories, and single articles. It is easy to use with tons of customization options and unlimited color choices.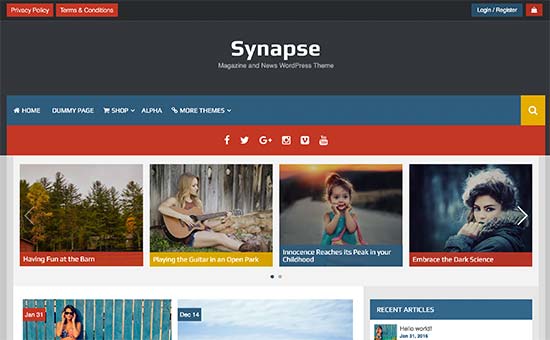 Synapse is a free WordPress theme for viral magazines and newspaper websites. It features a multi-color design with a full-width layout which gives it a trendy look.
It includes simple customization options which make it easy to use and quick to set up. Synapse is light-weight and compatible with all popular WordPress plugins.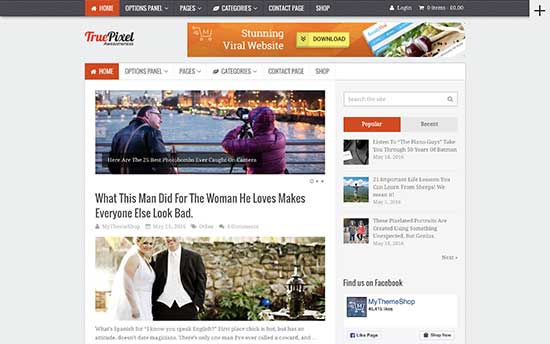 TruePixel is another modern WordPress theme designed for content-rich websites. It is designed to reduce bounce rate and boost user engagement which means more page views for your website.
It is also advertisement ready which allows you to start monetizing your website right away. It comes with a custom theme options panel which will help you easily set up your website.
BuzzMag is a free WordPress theme designed for online magazines. It comes with a featured posts section on top, a modern homepage design that puts your content in front and center. It has ready-to-use advertising areas, multiple-sidebars, and easy to use theme options.
Want to look at more themes? See our expert pick of the best WordPress magazine themes that can be used to build a BuzzFeed like website.
Creating Viral Content for Your Website
BuzzFeed started out with viral content like personality quizzes, memes, listicles, and pop-culture commentary. It has now evolved into a large media company publishing different types of content.
You will need to decide what type of content you want to publish on your website.
WordPress makes it easy to add any type of content to your website. You can create listicles, articles, upload images, embed videos and audio, create photo galleries and more.
To learn more, see our beginner's guide on how to add a new post in WordPress and utilize all its features.
Here are some of our guides that will help you create content similar to BuzzFeed and other viral magazines.
While you are building a website similar to BuzzFeed, it is important to make it your own by giving it a unique voice and style. This will help your brand stand out and capture a loyal audience.
To achieve this, you will need to regularly publish new content. You will notice that larger websites publish a lot of content each day. This is very difficult to do in the beginning, so you need to choose your own frequency.
We recommend starting with three articles a week and then increasing your pace to publish daily.
Now you may think, how would you come up with new ideas for blog posts on a regular basis? See these 73 types of blog posts that are engaging and can easily be used on a viral content website.
Need even more ideas? Make it a habit of visiting websites similar to BuzzFeed for inspiration. We are not saying that you should steal or copy their content.
Instead, collect ideas /topics, get inspired, and learn. Use these ideas with your own blog posts to create something new and original.
Getting More Visitors to Your Viral Blog
Viral content websites like BuzzFeed rely on traffic and user engagement for success. More people visiting your website means more pageviews and higher advertising revenue.
However, most beginners don't know where to start and how to get more traffic to their website.
Optimize your website for SEO
Most popular websites on the internet get majority of their traffic from search engines like Google. Experienced website owners use SEO (Search Engine Optimization) to improve their websites for search engines.
WordPress is built to be an SEO friendly platform out of the box. However, there is still a lot you can do to make sure your content is found by search engines and is displayed higher in search rankings.
For complete setup, follow the step by step instructions in our WordPress SEO guide for beginners.
Improve your website speed and performance
You will notice that BuzzFeed loads extremely fast and works well even on slower internet connections. A faster website offers users a better user experience, and it also improves your SEO.
You can make your website fast by implementing some best practices to fine-tune its performance.
We have a complete guide on improving WordPress speed and performance with step by step instructions for beginners.
Learn from your users
To make your website popular, you need to know what your users prefer. Most beginners try to make educated guesses instead of getting the actual data.
Simply install Google Analytics on your website, and it will tell you which pages are popular on your site, where users are coming from, how much time they spend, and more.
You can also track user engagement on your website with Google Analytics. This allows you to see exactly what users do when they are on your website and what you can do to increase their engagement.
Making Money From Your BuzzFeed Like Website
BuzzFeed not only has a large audience, it also makes a lot of money. Their primary source of revenue is from online advertisements and selling marketing solutions to businesses and advertisers.
As a beginner, you may not get as high paying advertisers as BuzzFeed, but there are plenty of ways to generate a steady income from your website.
1. Displaying Ads on Your Website Using Google AdSense
Millions of websites on the internet rely on ads to make money. Google AdSense makes it super easy for bloggers to display ads on their websites.
You don't have to worry about finding advertisers and collecting money. Google deals with advertisers, collects money, and sends it to you after taking a small cut.
For detailed instructions, see our step by step guide on how to properly add Google AdSense in WordPress.
2. Build Social Media Following
Viral content platforms like BuzzFeed have huge social media following, which has made them even more attractive to top brands. These brands approach them for collaboration, brand placement, and other deals to reach their massive social media audience.
However, for this, you need to start building a following on select social media platforms. Instagram and YouTube are the two platforms that attract a lot of big and small businesses.
An easy way to build a social following is by sharing posts on your website. You can share your Instagram posts on your blog and embed your videos in your blog posts.
3. Affiliate Marketing
Affiliate marketing allows you to recommend products and get a referral commission when your users purchase a product after clicking on your link.
You will need to find products that compliment your website's topics and have an affiliate program. The biggest affiliate network you can join is Amazon Affiliates. It has thousands of products that you can choose from.
To get started, see our guide on how to manage affiliate links in WordPress.
There are plenty of other ways to generate revenue from your viral content blog. Take a look at our guide on different ways to make money from your blog for some more ideas.
Resources to Learn WordPress and Grow Your Blog
Building a magazine website like BuzzFeed allows you to experiment with different ways to add content, engage audiences, and grow your business. As you work on your website, you will realize that there is so much more you can do with WordPress.
WordPress is quite easy to use, but from time to time you will come up with questions. Good news is that there is plenty of help available online.
WHOOPS.ONLINE itself is the largest free WordPress resource site in the world. We have tons of helpful resources, guides, and how-tos, written specifically for beginners, bloggers, and business owners.
Following are a few handy WHOOPS.ONLINE resources that you should check out. All of them are completely free.
Many of our users use Google to find answers on WHOOPS.ONLINE by simply adding wpbeginner after their search term.