Do you want to redirect users to a random post? A random post allows users to explore older articles and read posts that are hidden in your blog archives. In this article, we will show you how to easily redirect users to a random post in WordPress.
Why You Should Redirect Users to a Random Post?
By default, WordPress posts appear in reverse chronological order (from newest to oldest), so your users will read the latest post first. If you write regularly on your blog, then your users may not be able to discover your older articles.
One way to overcome this issue is to display random posts in the sidebar of your blog. It will allow your users to discover new content while increasing your page views.
You can also redirect users to a random post from 404 error pages or add a 'Surprise Me' button in your blogs custom archive page which takes users to a random post.
That being said, let's take a look on how to redirect users to a random post in WordPress.
Redirecting Users to a Random Post in WordPress
First thing you need to do is to install and activate the Redirect URL to Post plugin. For more details, see our step by step guide on how to install a WordPress plugin.
Upon activation, you'll see the URL query parameters for redirection on the WordPress plugins page. This plugin has no other settings page.
You can use any of these query parameters in your posts and pages to redirect users to random posts, latest posts, and other older articles.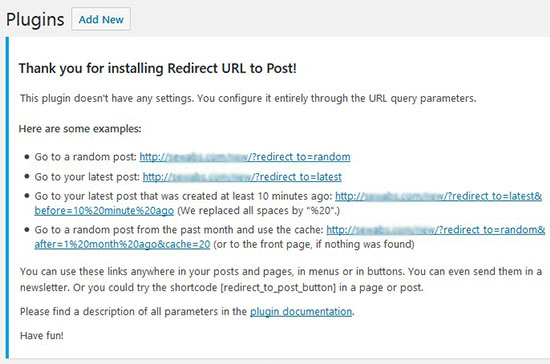 To redirect users to a random post, you need to copy the random post query parameter from here and add it in your error pages and other pages as a link.
Clicking on the link will redirect users to a different random post.
You can also add a button for redirection on your blog. Simply add this shortcode in your WordPress posts and pages to display the random post button.
[redirect_to_post_button]
When users click on this button, they will be redirected to a random post on your website.