Do you want to add an FTP like file manager in your WordPress admin area? A file manager can help you edit WordPress configuration, themes, plugins, and other files right from your WordPress dashboard. In this article, we will show you how to easily add an FTP like file manager in WordPress.
Why You Need an FTP like File Manager in WordPress?
A file manager in WordPress allows you to manage files on your WordPress website directly from your WordPress admin area. It works like a web-based FTP client allowing you to browse and manage files with a simple user interface.
Our recommendation is to always use an FTP client using SSH or SFTP protocols to securely transfer WordPress files.
However, a file manager is helpful when you don't have access to FTP or cPanel of your website. It works similar to an FTP client, so you can edit, preview, upload, and download the WordPress configuration and other files.
That being said, let's take a look at how to easily add an FTP like file manager in WordPress.
Adding a FTP like File Manager in WordPress
First thing you need to do is to install and activate the File Manager plugin. For more details, see our step by step guide on how to install a WordPress plugin.
Upon activation, the plugin will add a new menu item labeled 'WP File Manager' in the WordPress admin sidebar. Clicking on it will launch the file manager app, which will show your WordPress files and folders.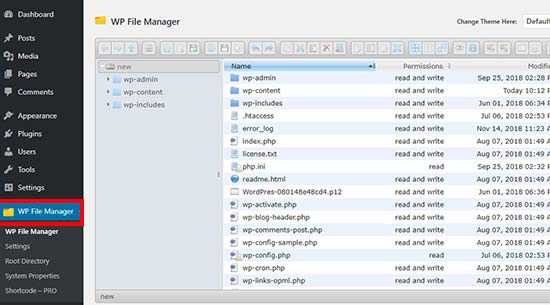 You can find the settings in the toolbar above the files section. This toolbar is similar to the settings in an FTP client. It allows you to preview, edit, upload, download, and delete files or folders.
You can select a file and choose the option in the toolbar to perform an action.
The folders will work the same way as they do in any modern FTP client. You can click on any folder to open and view its contents.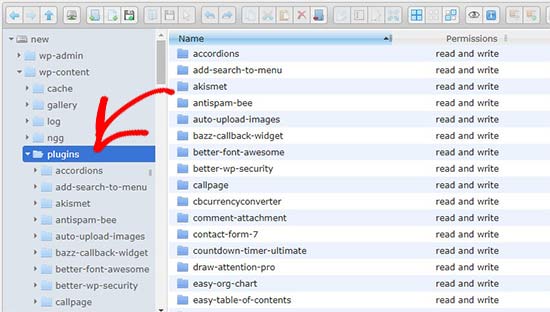 You can edit any file using the toolbar menu option. It'll open the file in a popup, so you can make changes and save it.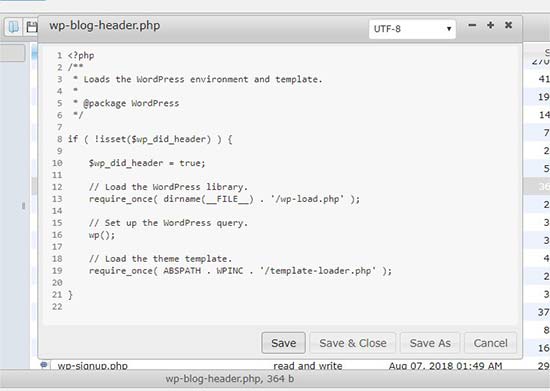 If you don't want to make changes in the file, then you can click on the preview option to see the code.
You can access the media files in the wp-content » uploads folder. The 'Upload Files' option in the toolbar allows you to upload multiple images in 1-click. You can also upload zip files and extract them in the file manager.
That's all. We hope this article helped you learn how to add a FTP like file manager in WordPress. You may also want to see our guide on useful WordPress configuration tricks that you may not know.