Do you want to create a reviews website and make money blogging?
Online reviews help others make a buying decision while allowing you to earn referral fees, known as affiliate commissions. You can build a reviews website dedicated to a specific niche, or you can add a reviews section to your existing blog.
In this article, we will show you how to easily create a niche review site in WordPress and make money from it.
Here are the steps we will cover in this guide.
Why Create a Reviews Site?
What's the first thing that you do when you're looking to buy something online?
If you're like most of us, then you check the online reviews of that product to see what others are saying about it.
This is why a popular online review site, TripAdvisor, is worth roughly $8.5 billion dollars.
While everyone cannot be as big as TripAdvisor, we know several folks that are earning anywhere from a few hundred to a few thousand dollars a month from running a niche review site.
There are two popular ways to create a review website. The first is to add a reviews section on your existing WordPress blog. The second is to create a completely independent online reviews site.
Regardless of the direction you choose, it's important that you don't pick a highly competitive niche.
For example, there are tons of sites talking about digital camera reviews, but not as many that are talking about camera accessory reviews.
The secret to building a successful review site is to find the right niche. A perfect niche has low competition, and it should be something that you're passionate about.
Here are a few factors to think about:
What resources can you offer to build traffic?
Can you easily attract advertisers? (i.e are there people selling paid products)
Are there affiliate programs available?
Are other people making money in this niche?
What is the competition like?
You can use tools like SEMRush, Ahrefs, and Google Keyword Planner to help with research. See our beginner's guide on how to do keyword research for step by step instructions.
Once you have picked your niche, let's take a look at how you can create a reviews site.
Step 0. Before You Start
Before you start your website, you need to choose the right blogging platform. Ofcourse WordPress is #1, but there are actually two different types of WordPress.
First, there is WordPress.com which is a limited hosted platform. Second, you have the popular WordPress.org, also known as self-hosted WordPress. When you hear WordPress, people are typically talking about WordPress.org. To understand the difference, see our comparison of WordPress.com vs WordPress.org.
We recommend using WordPress.org because it gives you full freedom to create any kind of website. It also gives you full access to all WordPress features out of the box.
To get started with WordPress, you'll need a good WordPress hosting company and your own domain name.
We highly recommend Bluehost because they are an officially recommended WordPress hosting provider, and one of the largest hosting companies in the world.
Not to mention, they are giving our users a free domain name, free SSL certificate, and 63% off their hosting plan (special for WHOOPS.ONLINE users).
→ Click Here to Claim This Exclusive Bluehost Offer ←
If you want a Bluehost alternative, then take a look at Siteground who also offer an exclusive discount to WHOOPS.ONLINE readers.
Once you have signed up for hosting and set up your domain name, the next step is to install WordPress. With Bluehost, WordPress comes pre-installed. Most other hosting companies offer 1-click WordPress install option. We have created a step by step guide on how to install WordPress which covers every major hosting platform.
Once you have your WordPress site setup, you will reach the WordPress dashboard.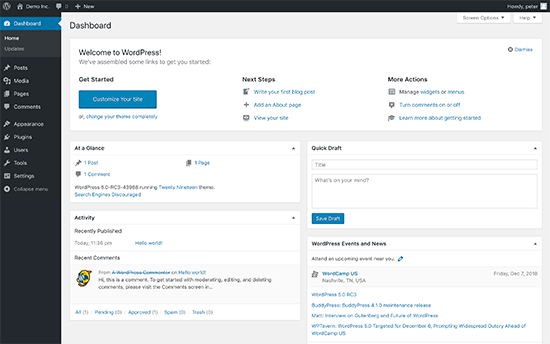 Step 1. Choosing the Perfect WordPress "Review" Theme
The first step after setting up your WordPress site is to select a perfect WordPress theme.
When you're searching for best WordPress review themes, you will likely come across several themes that offer complete review-site functionality baked into the theme. You need to avoid those at all cost.
You don't need a WordPress review site template. Most of those WordPress review themes are bloated and will lock you into using them forever.
That's why it's better to use a WordPress reviews plugin because plugins will work with any theme/design that you choose.
You will have the flexibility to change your themes in the future without having to hire a developer.
We have an article that will help you find the perfect theme. Basically, pick a theme that you like in terms of look and feel. We will show you how to add the reviews functionality in the next step.
Once you have found the theme you like, you can go ahead and install it. Need help installing theme? See our guide on how to install a WordPress theme for step by step instructions.
Step 2. Installing the best WordPress Reviews Plugin
Now that your website is ready, it is time to add reviews functionality to your website. We will be using a plugin to add SEO friendly reviews that make your website more easily discoverable by search engines and users.
First thing you need to do is install and activate the WP Product Review Lite plugin. For more details, see our step by step guide on how to install a WordPress plugin.
This base plugin is available for free and comes with all essential features. However, you may need to upgrade to the premium version of the plugin to unlock advanced features like product comparison table, Amazon Affiliate integration, multiple templates, and more.
WP Product Review plugin is easy to use, and it helps you stand out in search engines by adding schema markup or rich snippets for your reviews.
In plain English, it adds those star ratings next to your reviews in Google to help you stand out.
Upon activation, you will notice a new menu item labeled 'Product Review' in your WordPress admin menu. Clicking on it will take you to the plugin's settings page.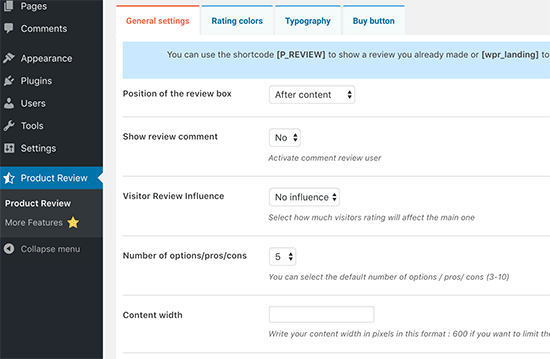 The settings page is divided into different sections. First, you need to set up the general settings.
Start by selecting where you want to display the review box. There are three options to choose from. You can show the review box after the content, before the content, or you can manually add it using the shortcode.
The next option is to choose whether you want to allow users to add their reviews as comments. If you allow this, then you also need to select how much influence user reviews will have on the actual review.
After that, you need to choose the numbers of options, pros, and cons that you want to be displayed. By default, the plugin will allow you to add 5 of each. You can adjust that as needed.
Another important option on this page is to enable the 'Review' post type. Basically, the plugin allows you to convert any WordPress blog post or page into a review.
However, some users may want to keep reviews separate from their blog posts and pages. The default option is 'No', and if you are unsure, then you can leave it as is.
Now move on to the rating colors tab in settings. This is where you can define the default colors used by the plugin for ratings. WP Product review uses different colors for excellent, good, not bad, and weak ratings.
You can change the rating colors to match with your theme design.
Next, click on the 'Typography' tab in the settings. This is where you can choose the default text for pros and cons columns. You can also change the text colors for different sections.
The final tab on the settings page is the buy button. On this tab, you can select the colors you want to use for the buy button.
Buy button will also have your affiliate link, so it is important that you choose a color that's likely to stand out, so more users can click on it.
Don't forget to click on the 'Save All Changes' button to store your settings.
Step 3: Adding a Review in WordPress
Adding a review using WP Product Review plugin is quite easy. There are basically two ways you can add product reviews in WordPress using WP Product Review plugin.
Add reviews to the reviews post type
Add review to any WordPress post or page
Regardless of how you choose to publish reviews, adding reviews in WordPress will be the same.
The plugin allows you to convert any WordPress post or page into a review. Simply edit or create a new post in WordPress.
If you have enabled the reviews post type, then you will need to visit Reviews » Add New page to add your review.
You will write your main review like you would write any other post in WordPress.
Under the 'Document' meta box in the right column, you will find the option labeled 'Is this post a review'. Turning it on will display the options to add your product review.
First, you need to provide product details like images, buy now button text, product or affiliate link, and product price.
After that, you need to add specific product features and your grade score for that respective feature. Click on the Add option button to add more features if needed.
Next, you will add the pros and cons lists. You need to add the best features of the product in the pros list and the features it lacked in the cons list.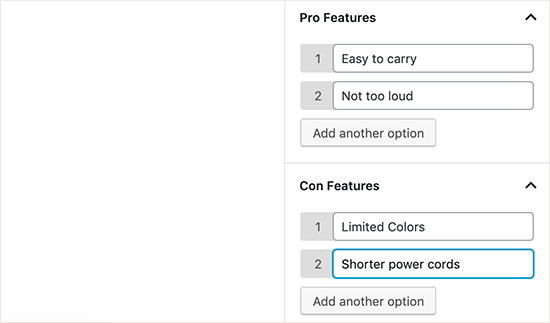 Once you are done, simply save or publish your post.
You can now visit the post to see the review box in action.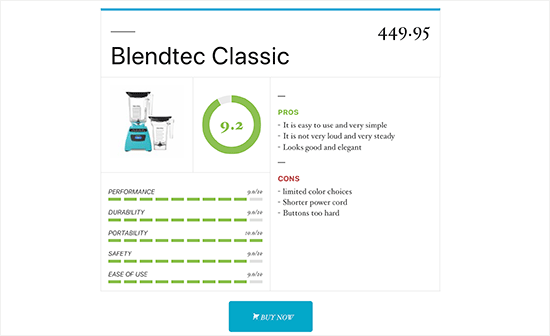 Note: If you are still using the old Classic Editor, then you will find the product review meta box below the post editor.
Step 4. Displaying Your Reviews in Sidebar
WP Product Review allows you to show your review posts in the sidebar and other widget-ready areas.
Visit Appearance » Widgets page, and you will find the top products and the latest products widgets.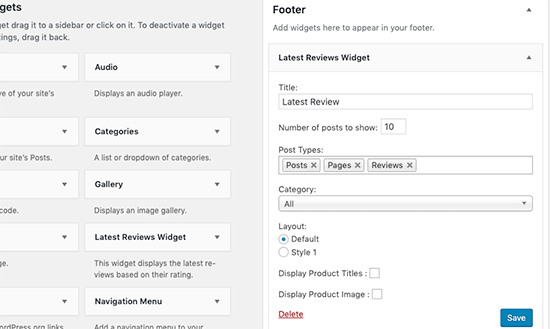 Simply add the widget to a sidebar and configure its options. You can select the number of products you want to display, product title and image display settings. Once you are done, click on the save button.
Next, go ahead and visit your website to see the reviews widget in action. It will show the latest reviews with ratings and product image.
Step 5. Making Money From Your Reviews Site
Reviews site are a great way to generate passive income on the side. There are multiple ways to make money from your niche review site.
Following are some of the most common ways used by reviews websites to generate revenue.
1. Affiliate Marketing
Affiliate marketing allows you to make money from your reviews by recommending products on your website. You earn a commission when users click on your referral link and buy the product.
You will need to find products that have an affiliate program. The easiest way to find awesome products in every niche is by joining a large affiliate network like ShareAsale or Amazon Associates.
To learn more, see our beginner's guide to affiliate marketing with detailed instructions and tools/plugins you'll need to grow your business.
2. Advertisements
Most websites on the internet generate their revenue by displaying ads. You get paid either for impressions or when a user clicks on the ad from your website.
The easiest way to displays ads on your reviews site is by using Google AdSense. This gives you access to thousands of advertisers who are looking for targetted audiences.
To learn more, see our guide on how to properly add Google AdSense to your WordPress site.
Apart from Google AdSense, you can join other advertising networks like Media.net or sell ads directly to advertisers. This allows you to diversify and maximize advertising revenue on your reviews website.
3. Paid Reviews
This direct approach allows you to cut the middleman and directly reach out to businesses that want their products to be reviewed.
You get paid for testing and writing your honest opinion of the product. This approach requires a lot of outreach and can influence the quality of your reviews.
For more ways to make money from your reviews site, see our list of proven ways to make money online.
Step 6. Taking Your Reviews Site to The Next Level
WordPress is a powerful platform, and it gives you access to thousands of awesome plugins that you can use to grow your reviews site.
Following are just some of the essential plugins that you can install right away.
Pretty Links – It allows you to cloak affiliate links and easily add, manage, and edit affiliate links in WordPress.
WPForms – It is the best WordPress contact form plugin and allows you to quickly create beautiful forms using simple drag and drop form builder.
Yoast SEO – It is the most comprehensive WordPress SEO plugin on the market and will help you get more visitors from search engines.
MonsterInsights – It allows you to easily install Google Analytics in WordPress and shows human-readable reports to understand where your visitors are coming from and which reviews on your website are popular. It also allows you to easily track outbound affiliate links which helps you improve your marketing strategy overtime.
For more plugin recommendations, see our list of the essential WordPress plugins for all websites.
Step 7. Improving Your WordPress Skills
WordPress is quite easy to use even for the beginners. However, occasionally you'll need help in learning new things as your website grows. This is where WHOOPS.ONLINE can help.
WHOOPS.ONLINE is the largest free WordPress resource site for beginners. We have lots of helpful content which is created specifically for beginners, business owners, and bloggers.
Following are a few of the helpful resources you will find on WHOOPS.ONLINE (all of them are completely free).