Do you want to add scroll depth tracking on your WordPress website?
Scroll depth tracking allows you to see how far a user scrolls on any page. This data helps you see if your visitors are actually reading your long posts and when they lose interest, so you can modify the content to keep them engaged.
In this article, we will show you how to easily track user scrolling in WordPress using Google Analytics.
Why Track User Scrolling in WordPress?
Generally, scrolling occurs when a user wants to see your content below the preview screen. It is a primary activity that all users perform to look at your content.
This makes scroll depth tracking an important measure to track user engagement. In addition to that, it gives you plenty of insights about user interaction on your site and helps you improve pages for optimal length.
For example, you can find out how much an average user scrolls when viewing your site, which long reads they liked the most, what makes them lose interest, etc.
With these insights, you can then optimize your pages for better user engagement and higher conversions.
Tracking Scroll Depth in WordPress with Google Analytics
Google Analytics is a free web analytics tool offered by Google to help you better understand your website visitors.
It allows you track who your website visitors are (age, gender, interests), where they are from, which pages they visit, how long they stay on those pages, how far down they scroll on the pages, and more.
Google Analytics tracks the basic metrics like total page views, total number of visitors, top pages, etc. by default.
For more advanced metrics like scroll depth, eCommerce tracking, form submissions, file downloads, event tracking, and others, Google analytics require you to setup custom tracking.
Manually setting up advanced Google analytics tracking requires a lot of technical skills. As a beginner, this is nearly impossible. Even some developers can't do it properly.
Thankfully, there are easy to use WordPress plugins that can help you track advanced metrics like scroll depth with Google Analytics.
Let's take a look at two plugins that you can use to setup scroll depth tracking in WordPress.
1. Scroll Depth Tracking in WordPress with MonsterInsights
MonsterInsights is the most popular Google Analytics plugin for WordPress with over 2,000,000+ active installs. It helps you easily install and use Google Analytics on your WordPress website without using any code.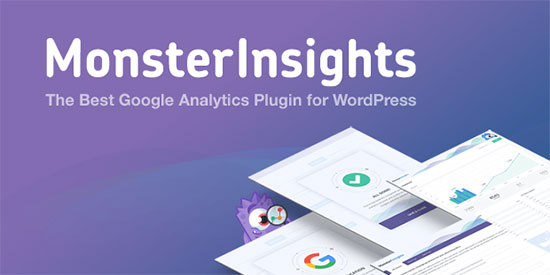 With MonsterInsights, you can enable advanced tracking like eCommerce tracking, file downloads, affiliate links, forms tracking, scroll depth, and more with just a single click (no coding needed).
MonsterInsights comes with scroll-depth tracking enabled by default. This means you don't even need to configure any settings. All you need to do is setup the MonsterInsights plugin.
First, you need to install and activate the MonsterInsights plugin. For more details, see our step by step guide on how to install a WordPress plugin.
Upon activation, go to Insights » Settings page and then click on the Engagement tab. As shown in the screenshot below, you will see the scroll tracking option enabled by default.
MonsterInsights trigger events in Google Analytics as your website visitors scroll down the page. It will then be tracked with Google Analytics as 25%, 50%, 75%, and 100% scroll.
You can see your scroll tracking stats and other helpful stats right inside your WordPress admin area by going to the MonsterInsights Publishers Report (Insights » Reports » Publishers). The scroll depth data appears next to the Interests section.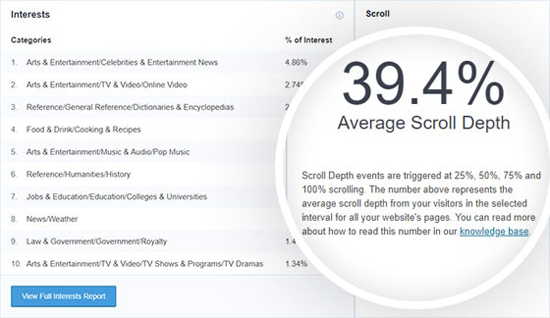 You can use the scroll depth data to optimize your pages for more conversions. It gives you a better picture of how your visitors are interacting with your content and helps you decide the best place for your important calls to action, ads, and more.
View User Scrolling Data in Google Analytics
Now that you have set up scroll tracking with MonsterInsights, you can view reports also in your Google Analytics account.
Log into your Analytics account and then visit Real-Time » Events to see your real-time or recent scrolling data within the last 30 minutes.
For the complete data, you can go to Behavior » Events » Overview from your Analytics dashboard.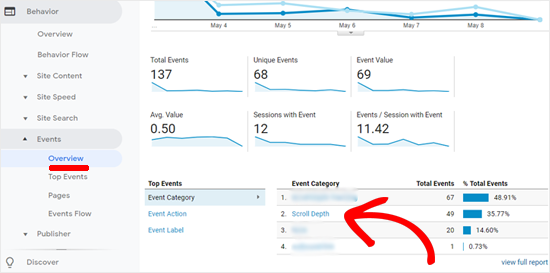 You can click on the Scroll Depth link to get more details.
If you want more granular details, then you can use Google Analytics' secondary dimension feature alongside the Scroll Depth event to see the scroll data for each individual landing page.
2. Track User Scrolling With WP Scroll Depth Plugin
If you don't want a comprehensive Google Analytics solution and would rather use a single plugin, then you can use WP Scroll Depth.
The first thing you need to do is install and activate the WP Scroll Depth plugin on your site. For detailed instructions, here's our step by step guide on how to install a plugin in WordPress.
Upon activation, you need to go to Settings » Scroll Depth to configure the plugin settings.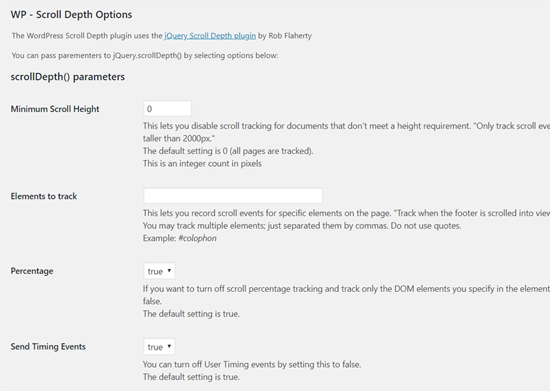 The default options will track scroll depth for all pages on your WordPress site. All you need to do is click on the Save Changes button to store plugin settings.
WP Scroll Depth plugin uses jQuery to track scrolling on your WordPress site. It monitors four scroll points 25%, 50%, 75%, and 100% of the page height. When a user reaches a scroll point, the plugin sends an event to Google Analytics using jQuery.
After that, you can view Scroll Depth event data under Real-Time » Events on your Google Analytics dashboard.
We use MonsterInsights on all our websites because it's the most complete Google Analytics plugin for WordPress, and we recommend all our users to do the same. They have a free MonsterInsights plugin, and you can also upgrade to the premium version to unlock more powerful tracking.