Do you want to embed individual tweets in your WordPress blog posts? Embedding Tweets in your blog posts allows you to easily quote tweets inside your posts as well as make them more engaging.
You may have seen many popular blogs and news websites embedding tweets from organizations and individuals in their articles.
It makes the quotes more authentic while allowing your users to follow the full conversations for more information.
In this article, we will show you how to easily embed tweets in WordPress blog posts and pages.
Embedding Actual Tweets in WordPress Posts – Step by Step
WordPress makes it easy to embed third-party services in your blog posts. This includes YouTube videos, Facebook updates, Tweets, and many more items.
This feature uses a method called oEmbed. Basically, you can just add the URL of a third-party website, and WordPress will request an embed code from them.
You can only add whitelisted oEmbed services in WordPress, and Twitter is one of those services.
The new WordPress block editor has added even more user-friendly options to embed tweets in WordPress.
It comes with a built-in Twitter embed block to let you easily insert tweets in your posts and pages.
Let's take a look at how to embed tweets in WordPress blog posts.
First, you need to go to Twitter and find the tweet that you want to embed.
Next, click on the down arrow icon on the right, and then select 'Copy link to Tweet' option.
After that, you will see 'Link copied.' message on the top. Now you need to paste the link in your WordPress editor.

Create a new post or open an existing post from your WordPress dashboard, and then click 'Add New Block' button. Next, you will need to choose the 'Twitter' block under 'Embeds' section.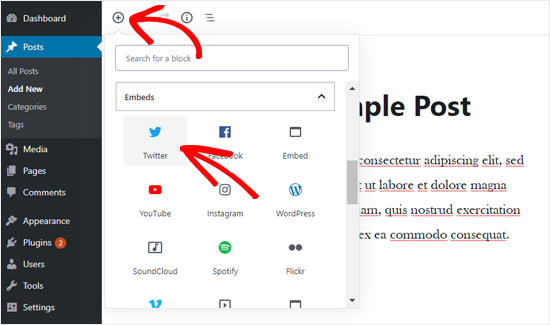 You'll now see the Twitter Embed block added into the post edit area. You need to paste the Twitter URL that you copied earlier in the block settings.
WordPress will now automatically fetch and display the actual tweet in your post content.
You can save your post or publish it to see a live preview.
This is how it looked on our demo website.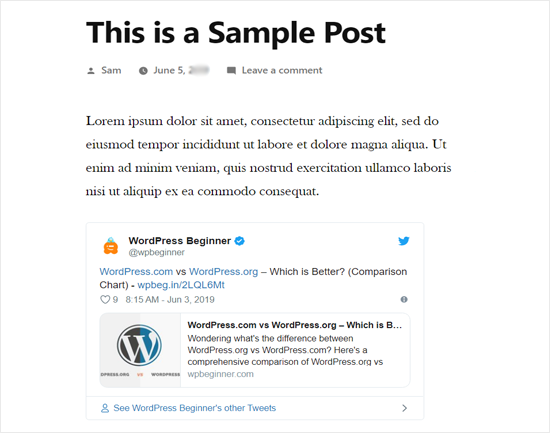 Pro Tip: You can also paste the Tweet URL in a paragraph block and WordPress will automatically convert it into a Twitter embed block.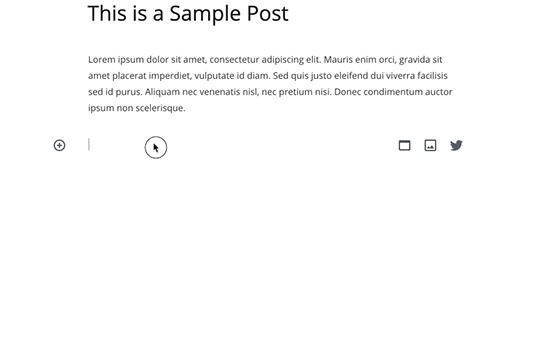 How to Embed Tweets in Classic WordPress Editor
If you are still using the old WordPress classic editor, then you will need to copy and paste the tweet link directly in the post editor.
Unlike the block editor, the classic editor is a single text box for your whole content.
That's why you need to paste the tweet URL in a separate line in the editor.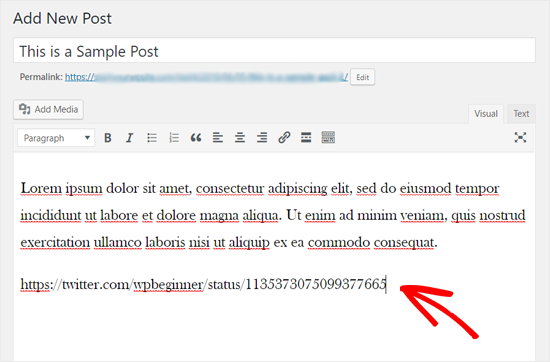 Once done, it will immediately load the actual tweet in your post editor.
Now you can save and preview your post.
That's it! It's pretty simple and quick.