Since the Ocean Breeze update, which marked the Spring here at OceanWP, we have been extremely busy working on new improvements for you. Really no use keeping it a secret – our theme panel has received a makeover!
The upcoming OceanWP update brings you the new OceanWP Panel, previously known as the Theme Panel that we here at OceanWP call Ocean Starboard. We promise right away, the changes are not just cosmetic or phonetic. The primary goal was to make the OceanWP Panel more organized, user-friendly and, you've guessed – add more useful options!
We're really excited to show you everything we've done and hope you'll be excited for this release just as much as we are. So, let's go through all the changes together, shall we?
Before we begin, we made this Table of Content for you so that you can come back to this article in the future and use it as a starting point or guide for the brand new OceanWP Panel.
Disclaimer: screenshots used in this article were based on the development versions of the OceanWP theme and Ocean plugins, so things may appear just a sprinkle different on your end.
Table of Content:
Theme Panel Becomes OceanWP Panel
Yes, yes, we know what you're thinking.
Not a glamorous change 😀 Besides the name change, which was done in order to make all settings more user-friendly, there's really a lot more to it.
Stay with us, as we're about to give you a tour through all sections.
OceanWP Panel Position
OceanWP veteran users remember it was sometimes difficult to chase the panel down in the WordPress dashboard. With the latest OceanWP and Ocean Extra update, the OceanWP Panel will be positioned at the top of the WP dashboard, so you won't miss it, ever again.
OceanWP Panel Notifications Indicator
Stay in the loop with our eye-catching notification indicator.
Whenever an update is available or required to get access to new features, you will see a clear indicator "that there's something going on".
Example, a theme update is available or you need to update a plugin to unlock new features. In a similar manner, you will need to update Ocean Elementor Widgets to unlock the new features we'll talk about below.
OceanWP Panel Legacy Settings
Some settings that come with Ocean Extra (My Library, for example) and additional Ocean plugins, such as the Ocean Custom Sidebar, Ocean Stick Anything, etc, will still be displayed as before – under the OceanWP Panel.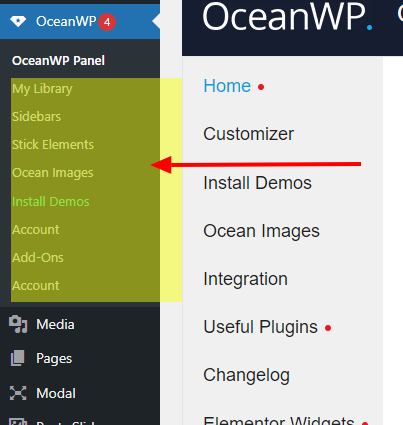 New OceanWP Panel
And now to the best part. We present to you the new and very much improved OceanWP Panel.
In this part we'll go over all OceanWP Panel sections with you and explain all the options, changes and benefits.
OceanWP Panel: Home Section
Welcome and make yourself feel at home 😉
The first section in the new OceanWP Panel is the Home section. We'll start this tour with the very first, but also a new feature – the Theme Status.
Home Section: Theme Status
The Theme Status option is a brand new OceanWP update feature.
Theme Status will inform all OceanWP users if there is a theme update available. It's also one of the options that triggers our awesome notifications indicator we mentioned earlier.

You'll also be able to check all feedback for the new release before updating. Of course, we're referring to our already familiar document Known Bugs & Issues.
In this doc, we log all problems/issues users have encountered after updating to a specific theme or plugin version, and which we acknowledge to be a bug or a problem. Remember, if you encounter a problem you believe might be a bug and not a specific user case, let us know about it so we can throw ourselves at it immediately. Now, back to our features.
In addition to the cute notification, you will also be able to update the theme directly from the OceanWP Panel, by simply clicking the "update now" link.
Home Section: Quick Settings
The Quick Settings option is something we already had, but perhaps you never used it 🙂
This section represents a quick access menu. Each menu item is a shortcut that leads to a specific Customizer panel or section, which saves you a bit of time (or clicks).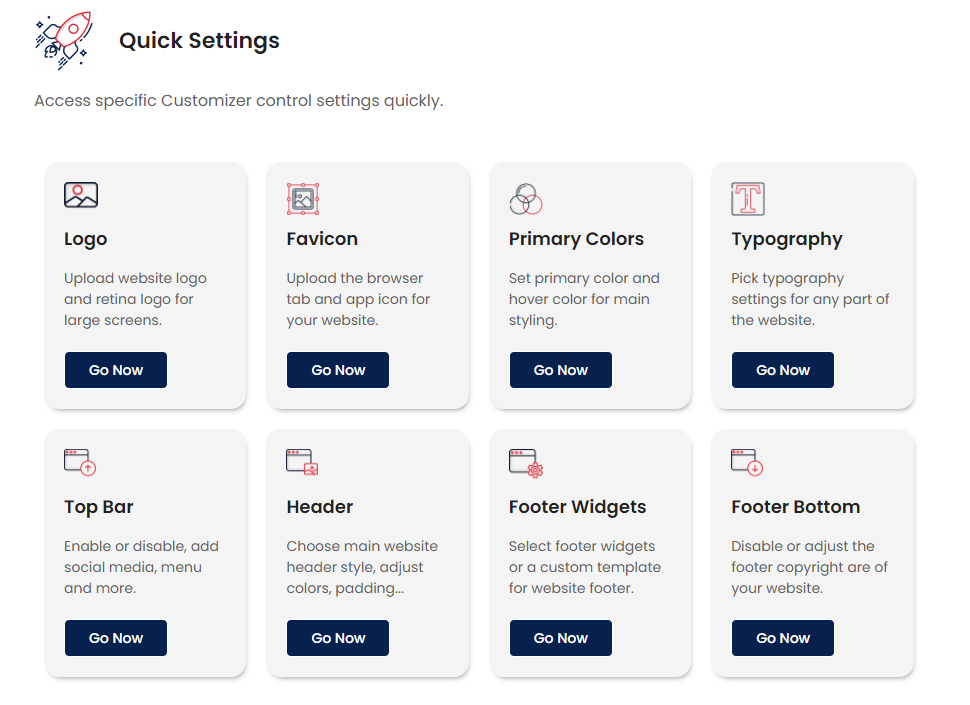 Example, if you need to change the logo, just click on the Logo shortcut and it will open the Customizer with the Logo settings directly.
The traditional way of accessing these settings is to open the Customizer, then Header settings, then the Logo section. To summarize, for this particular action you're saving 2 additional steps.
Home Section: Download
The Download section is a completely new feature that comes with the latest OceanWP update.
The first part of the Download section is – yours truly – the Ocean Extra plugin. The Ocean Extra plugin is 100% free but also required to unlock multiple features, as well as the functionality of the new OceanWP Panel. Basically, this has not changed 🙂
On a quick side not, if you don't plan to use the features mentioned, or additional Ocean plugins, be it free or pro, you are not required to use Ocean Extra plugin on your site. But we strongly recommend it because you'll be missing out.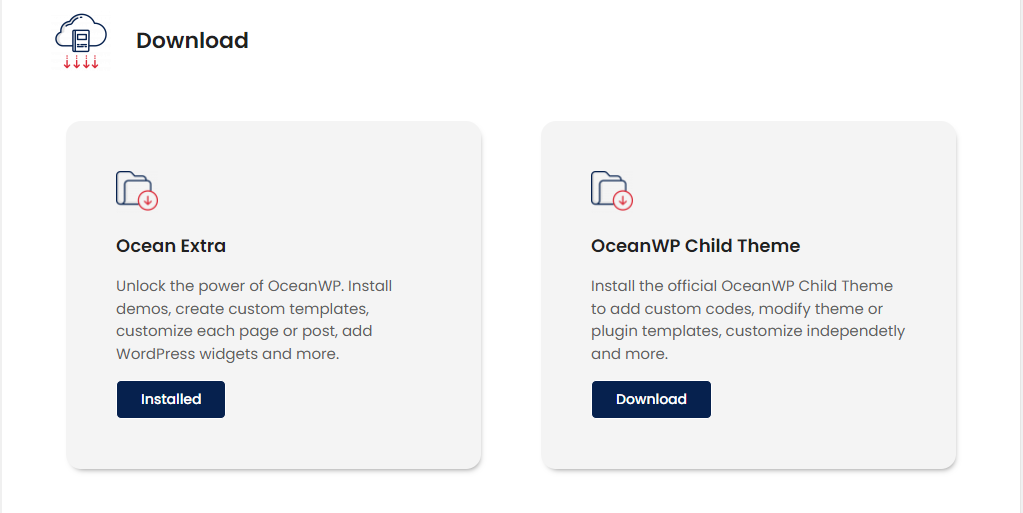 The second option is the OceanWP Child Theme download.
As you already know, OceanWP has a fully functional and a ready-to-import and use child theme. When it comes to OceanWP, you don't need to use third-party plugins to create a child theme.
In fact, we advise you against it because some plugins tend to "lock" scripts and only call scripts that existed in a specific theme at the time of the creation of the child theme. This can cause issues with later updates, because your child theme may be reading old or non-existent scripts.
However, downloading and importing a child theme can be a tedious task, especially for beginners. So, we've come up with a feature that allows you to install the OceanWP child theme with just 1-click, directly from the OceanWP Panel! And you can immediately see just how easy it is by inspecting the video below.
The file you will be installing through this button is the same file that is publicly available on our GitHub account. Likewise, when we make updates to the GitHub file, we'll also replace the download file.
If you're a developer and wish to make changes to the child theme before installing it, for example, change the theme's screenshot, you will need to:
download the OceanWP child theme file the traditional way,
use a software editing tool, like Visual Studio Code, then
upload the changed file in a ZIP file format to your website.
If you're interested in installing the OceanWP child theme the "traditional" way, you can check our documentation on how to install a child theme or you can check our YouTube video on how to download and install the OceanWP child theme.
The one thing this process does not do is "migrate" your previous Customizer settings (if any), so this is something you'll need to do manually 🙂 Luckily, we also made sure to make this process as easy as it can be. Check out this video part on how to import website styling (Customizer settings) to your child theme.
Home Section: The Love Corner
The name says it all – it's a place to share and receive love 🙂
In this area you have the option to:
share the rating and your experience with the OceanWP theme you love as much as we do,
And while we're at it, if you have an outstanding website based on OceanWP – don't keep it a secret and apply now for the OceanWP website showcase! We'd love to see what you did and share with the rest of the OceanWP family.
OceanWP Panel: Customizer Section
The Customizer section is a brand new feature – or better yet – a brand new section, that comes with the latest OceanWP update.
This section contains grouped features and options that are directly related to the WordPress Customizer (Appearance > Customize).
Customizer Section: Customizer Search
Customizer Search is an option we introduced at the and of 2021. Seems so far away, doesn't it.
We understand that browsing through the Customizer can sometimes be confusing or time-consuming. Even if you're familiar with the OceanWP theme, you can sometimes forget where specific settings are located, especially if you don't use them often.

That's where the Customizer Search comes to the rescue.
Activate the feature and it will become available in the Customizer. Use the search option to find all settings with ease and navigate directly to them.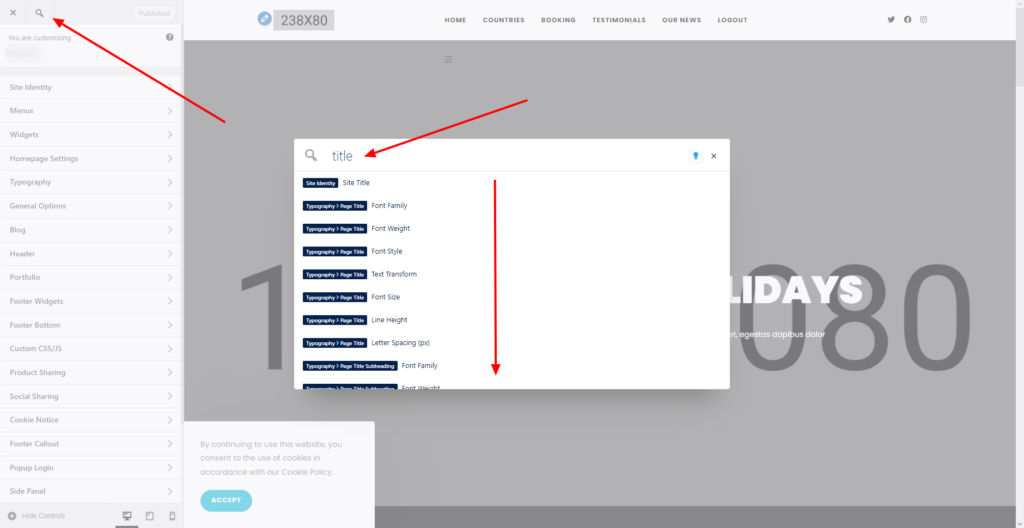 The Customizer Search option is disabled by default.
Customizer Section: Customizer Reset
And, here it is folks!
Something you've been asking for – a handy feature all website developers will love as you do not have to use third-party plugins anymore 🙂
The Customizer Reset option allows you to reset all Customizer settings to default theme settings. It's extremely useful if you wish to switch to a different Ocean WordPress template demo or you just don't wish to find all the settings that came with a demo to correct them, and instead you'd like to make own changes from the scratch.
What do you need to do? Just click on the Reset Customizer Settings button, confirm your action (as we don't want any accidental clicks) and that's it!
That being said, do not click for experiment purposes unless you've exported all your settings which you can import again.
Which brings us to the next option – Customizer (Website Styling) Settings Import and Export
Customizer Section: Customizer Styling Import and Export
If you're a veteran OceanWP user, this is a feature you're already familiar with. Except, this time, we placed it under the same roof with other Customizer options. We also made sure to add user and beginner-friendly descriptions.
As there are no changes to the functionality or use of this feature, except for the location and the brand new styling, check out this video part to see how the export and import of Customizer styling functions.
Customizer Section: Customizer Controls
Again, OceanWP long-time users are familiar with the Customizer Controls option.
The Customizer Controls feature allows you to disable specific Customizer panels from loading. Its purpose is for the Customizer to load faster or not to load options you do not frequently need to use, therefore keep the Customizer organized and save time while editing.
However, the new OceanWP update expands this feature.
Previously, OceanWP users had the opportunity only to disable default sections that were a part of the OceanWP theme, such us Top Bar, Typography, General, Header and several other panels.
From now on, you can disable all panels generated by free and/or pro Ocean extensions. Example: Sticky Header, Sticky Footer, Modal Window, and more 🙂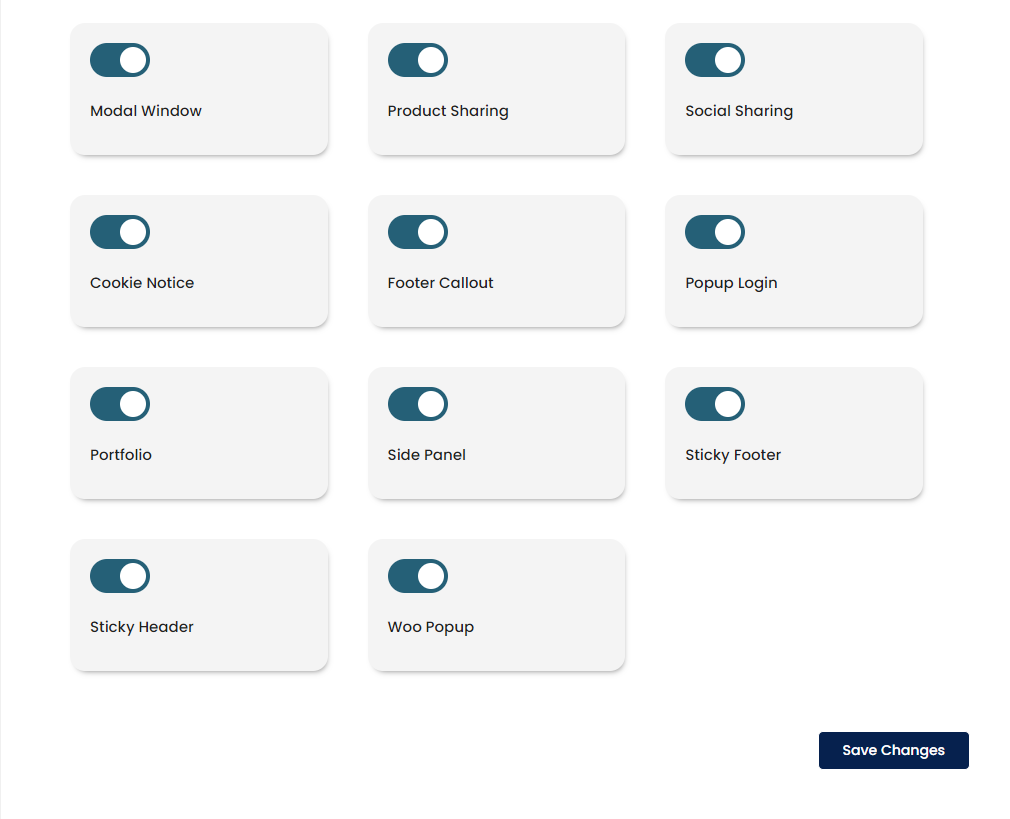 OceanWP Panel: Install Demos
One of your favorite features about OceanWP, full website WordPress templates, has received a slight makeover and 2 (two) brand new functionalities.
The old option, Install Demos (located under the OceanWP (Theme) Panel) now serves as a direct shortcut to the dedicated Install Demos section of the new OceanWP Panel. Naturally, this section can also be accessed directly through the OceanWP Panel.
For all new OceanWP users, or those of you who rely on documentation, we added docs and links to video tutorials directly into this section. Whenever in doubt, you'll have all the help you need at click's reach 🙂
New Install Demos features include:
the Import Button, for user-friendliness (the import process will still function as before: if you click the demo image), and
the option to disable/enable Install Demos whenever you do not use them.
OceanWP Panel: Ocean Images
As announced in the Ocean Breeze updates release, owners of the Business and Agency Core Extensions Bundle plans have the opportunity to enjoy the new features: direct image import from Freepik and icons import from Flaticon.
In this section you're allowed to enable all options per need and start working with royalty-free images on your website.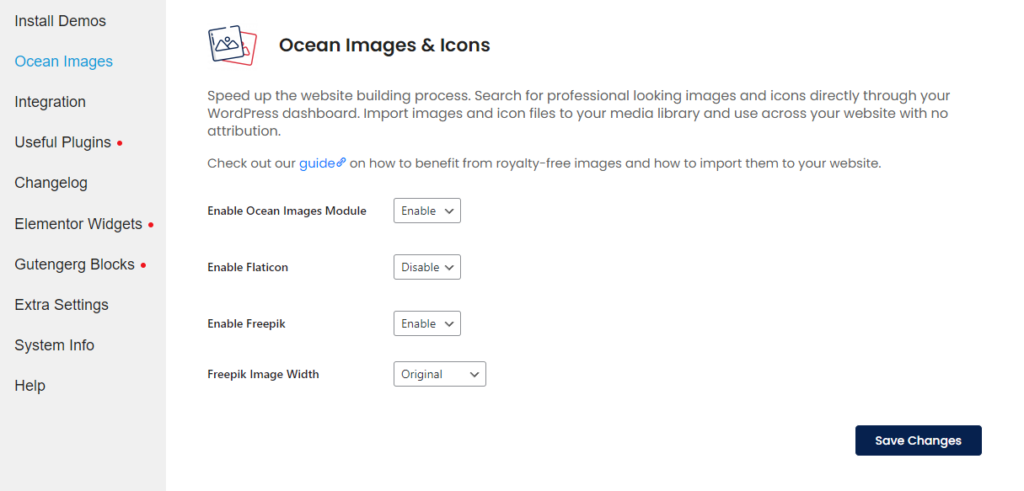 Want to enjoy the Ocean Images feature? Upgrade or purchase the Business or Agency Ocean Core Extensions Bundle plan.
Check out our Royalty-free Images and Icons with OceanWP page to find about the benefits, as well as how to use this feature.
OceanWP Panel: Integration
The Integration section is absolutely not a new feature, but it now comes as a standalone section.
Standard integration options include:
Google maps API (to use with Ocean Elementor Widgets: Google Map widget),
Google reCAPTCHA (to use with Ocean Elementor Widgets: Register widget), and
MailChimp API (to use with MailChimp widget from Ocean Extra or Newsletter Widget from Ocean Elementor Widget).
Brand NEW integration option includes:
By default, you're not allowed to upload SVG file types to your WordPress Media Library. Our new option will allow you to do just that, and upload SVG logos, icons and more.
We made sure that all files you upload are completely sanitized. Even if you upload a file with malicious code, intentionally or by mistake, it will be entirely safe to use once it's uploaded to your site.
And the special benefit of the SVG support feature is – you don't have to use any third-party plugins for this anymore 🙂
The SVG file support feature is disabled by default.
OceanWP Panel: Useful Plugins
The Useful Plugins sections is completely new. It contains options to install plugins we usually recommend or even use in our full website template demos, along with the description of the plugins' functionalities.
Please note that these do not contain any affiliate or other marketing links – only WordPress repository links.
Aside from recommended plugins, you will also find a list of all Ocean free extensions that are available in the WordPress repository. Again, followed by information that describe our products best and with the option to install them from the WordPress repository directly through the new OceanWP panel.
OceanWP Panel: Changelog
Seasoned WordPress users already know that, unlike with plugin updates, the theme's changelog is not available for direct preview even though it's present in the theme files.
To allow our users to keep track of all the changes done, we've kept our OceanWP Theme Changelog document. We'll continue to update this document even after the new OceanWP Panel changes in case of users who don't use Ocean Extra.
What more is there to say about this feature? The changelog is now available to you directly in the new OceanWP Panel 🙂
OceanWP Panel: Extra Settings
Extra Settings is a brand new feature or better yet – a pack of new features.
From now on, all OceanWP users will be able to enable or disable all features that come with the Ocean Extra plugin and in any given moment.
The Extra Settings option includes, but is not limited to:
disable/enable My Library (don't want to create custom templates, shortcodes or other things to use across the theme? No problem),
disable/enable Metabox Settings (individual page, post, product or template settings),
disable/enable OceanWP WordPress widgets, entirely or individually, and more.
OceanWP Panel: System Info
The System Info is a brand new feature that will help us help you in case of any problems.
The best part about it is that you don't have to rely on third-party plugins or consult your hosting providers to retrieve this information.
With one click on the "Get System Report" button, you can generate the system info to copy/paste it for us on the WordPress forum, tickets or our OceanWP Facebook Community to review.
OceanWP Panel: Help
The Help section serves as a shortcut to all OceanWP users in a need of a assistance.
From the Help section, you can directly visit the OceanWP documentation, check out OceanWP YouTube video tutorials, or seek help, advice or guidance from us on the WordPress forum, Facebook Community Support group or submit a ticket if you're a client.
If you're new to WordPress or posting on the WordPress forum, please be advised that under the WordPress forum rules and guidelines we are allowed to provide you with support for the OceanWP theme and free plugins only. For all other questions, come and join our Community or submit a ticket whenever you feel the need.
OceanWP Panel Changes and Ocean Pro Extensions
The new OceanWP update brings also additional features to some of the Ocean Pro Extensions, like the Ocean Elementor Widgets or Ocean White Label.
Ocean Elementor Widgets users will, from now on, have the option to disable any widget they don't need or don't want to use, so it won't be loading in the Elementor Panel.
Ocean White Label users will receive a bit more whitelabeling options, all in accordance with the new OceanWP Panel changes and the option to impress clients even more.
Ocean Plugins and OceanWP Panel Update
Our new update affects numerous free and pro Ocean extensions, similar to the update procedure when we released OceanWP 3 with Vanilla.
This means that you will need to update all plugins in order to start making use of all the latest features.
The complete list of Ocean extensions affected by the OceanWP Panel makeover update:
Ocean Extra, version 2.0.0,
Ocean White Label, version 2.0.0 (pro plugin and a part of the Ocean Core Extensions Bundle),
Ocean Woo Popup, version 2.0.2 (pro plugin and a part of the Ocean Core Extensions Bundle),
Ocean Sticky Header, version 2.0.4 (pro plugin and a part of the Ocean Core Extensions Bundle),
Ocean Sticky Footer, version 2.0.3 (pro plugin and a part of the Ocean Core Extensions Bundle),
Ocean Cookie Notice, version 2.0.4 (pro plugin and a part of the Ocean Core Extensions Bundle),
Ocean Side Panel, version 2.0.4 (pro plugin and a part of the Ocean Core Extensions Bundle),
Ocean Footer Callout, version 2.0.2 (pro plugin and a part of the Ocean Core Extensions Bundle),
Ocean Portfolio, version 2.0.7 (pro plugin and a part of the Ocean Core Extensions Bundle),
Ocean Popup Login, version 2.1.1 (pro plugin and a part of the Ocean Core Extensions Bundle),
Ocean Gutenberg Blocks, version 1.1.1 (pro plugin and a part of the Ocean Core Extensions Bundle),
Ocean Pro Demos, version 1.3.1 (pro plugin and a part of the Ocean Core Extensions Bundle),
Ocean Elementor Widgets, version 2.2.1 (pro plugin and a part of the Ocean Core Extensions Bundle),
Ocean Social Sharing, version 2.0.2 (free WordPress plugin),
Ocean Product Sharing, version 2.0.3 (free WordPress plugin),
Ocean Custom Sidebar, version 1.0.9 (free WordPress plugin),
Ocean Modal Window, version 2.0.5 (free WordPress plugin).
In order to enjoy all new features, and for the OceanWP Panel changes to function correctly, you will need to update the OceanWP theme and ALL Ocean extensions.
Now that you know what plugins you'll need to update, let's go over some things you need to know before you start updating.
OceanWP Update: How to Prepare Your Website
We all love updates and new features, but just can't become fond of update preparations 🙂
This is a major update, and although we keep recommending the same procedure over and over no matter how big or small an update is, we'll do it again (just in case).
The correct update order is:
Update OceanWP via Appearance > Themes, then
Update all Ocean plugins via Plugins > Installed Plugins.
Before you update, make sure you have taken necessary precaution measures.
Test the Update Before Updating Your Live Site
The best practice is to test new changes on localhost, test or staging environments.
If you don't have the option to test the updates anywhere, do not update immediately. Wait for a couple of days or even a week, until we've gathered feedback and made sure it's safe for you to update.
Remember, even if everything is fine, something can always go wrong during updates. After all, the bad thing about software is – it's software.
Make sure to backup your websites properly. Do not rely on hosting backups alone, take manual backups as well and store data in a safe place. If you're using the WordPress Reset plugin (not to be confused with WordPress Database Reset), you can also create website snapshots.
Important: remember to purge cache thoroughly after the update, multiple times if necessary. The same goes for the CDN (cloud) cache.
Updating a Live Website
Website update preparation To-Do list:
Before updating the theme, create a backup of your website.
Place your website in the Maintenance mode.
Update OceanWP theme to its latest version via Appearance > Themes.
Update all Ocean plugins to their latest versions via Plugins > Installed Plugins.
Clear browser, website or CDN (cloud) cache.
Inspect your website.
If everything is in order, deactivate the Maintenance mode.
Enjoy all new OceanWP updates and features!
What's Next for OceanWP?
Believe it or not, we already have other delicacies cooking in the OceanWP kitchen of features.
While we can't reveal everything, one of the things we'll also be working on is improving OceanWP theme and Ocean plugins descriptions, settings (we might move some) to make them user (and beginner) friendly at the max. We'll also make sure to do our regular round of accessibility improvements.
Regardless of our plans, we want to know what you think and we'll here to listen to all your ideas and suggestions. Think there's a feature, document, demo or a video OceanWP users would really need? Let us know about it by filling out the OceanWP feature request form.
And remember, if you're an Agency Bundle license owner, you can also influence our plans and collaborate with us more closely.
LOS; INR. (Long or Short, I Never Read):
We are releasing major updates.
Take website backups, including manual backup, before updating OceanWP and Ocean plugins.
The best practice is to test all updates on test, localhost or staging environments. If you don't have the opportunity to test the updates, do not update immediately. Wait with the updates a couple of days until we've gathered feedback.
In case of any problems or issues, inform us about possible bugs or submit tickets.
But, in case you got till the end of the article, please, let us know what you think. We'd love to know how you fancy the new OceanWP Panel and all other changes that come with it 🙂
PS don't forget to check out the full premiere preview video of the Ocean Starboard and OceanWP Theme Panel Makeover and see some of the features live