It's common knowledge – here at OceanWP we don't look back otherwise we wouldn't be able to move forward.
But, reflecting on the soon-to-be past year helps shed light on the most significant moments and make headway towards better features and products for OceanWP WordPress theme users.
That being said, in this article we're going to review the highlights of all features and changes that have marked the year 2022 and forged a path for a better, brighter and delightful 2023.
OceanWP + Freepik and Flaticon Co-op

April 2022 we announced the finalization of our partnership with Freepik and Flaticon.
If you haven't paid too much attention to this announcement, here's a short list of how you benefit from this cooperation:
100% real royalty-free images with full website and section templates you can use on your OceanWP websites. No baits, no traps, no fine prints, no attribution, no legal consequences you have to worry about.
direct image and icon import for Business and Agency plan OceanWP Premium Bundle license owners. Great images are key for a successful design but it also takes away too much time. Working hard and being efficient at the same time is possible. Get more things done faster thanks to OceanWP and Freepik cooperation.
You can read the full article on OceanWP Breeze Update release or check out the details on OceanWP Freepik partnership.
OceanWP Panel aka the Theme Panel Makeover
Talk about epic moments in 2022 review – the OceanWP Panel is possibly the greatest highlight of all the things we did this year.
While the main goal was to keep the focal and essential functionality of the old Theme Panel, there were a few specific tasks the new OceanWP Panel had to fulfil (besides looking good, obviously):
So, what were those OceanWP Panel tasks we mentioned in this review? Well, more control for OceanWP users and more lightweight but extremely helpful features that used to require additional plugins and/or codes in the past.
If you want to know more about the OceanWP Panel, make sure to check out our article on OceanWP Starboard Update release.
To learn everything about the OceanWP Panel, make sure to check our OceanWP Panel documentation.
OceanWP Sections Template Library for Elementor
OceanWP full website templates are awesome and you guys are very fond of them. But sometimes, only full site templates are not enough.
Sometimes, you'd like to create a new amazing page on an existing website and you don't want to risk importing a full site template and ending up with a mixed content. Sometimes, you just want to build a website from scratch but lack the inspiration or content to start with. And that's were the OceanWP section templates come into the spotlight.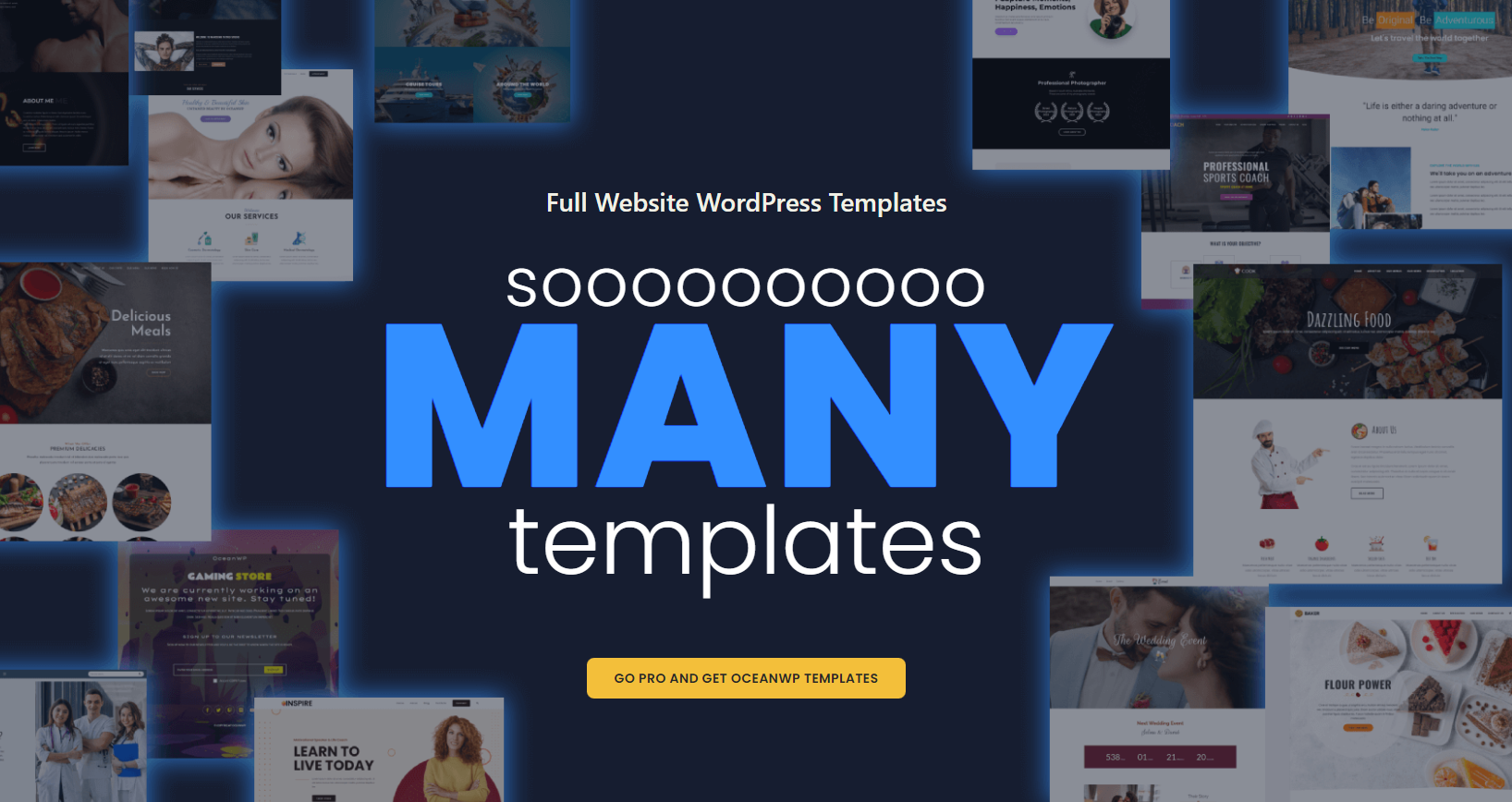 Build your page, section by section, create a custom footer, CTA, newsletter subscription or just about anything.
The OceanWP section templates support the free Elementor page builder (will work with PRO as well) and are a part of the Ocean Pro Demos premium plugin. However, the templates are only available to the Bundle license owners.
At the moment of writing, the templates section counts over 100 various templates.
YouTube Tutorials and Webinars
To us, it's essential that you feel confident using OceanWP products, even if you're completely new to OceanWP or WordPress. Naturally, this requires some training, videos or document tutorials.
If you're just starting out and reading this – trust us, nothing comes over night and even the "gods of WordPress" did have to learn it the same way you do. So hang in there, because we got you.
The OceanWP official YouTube channel already has some nifty and great videos on both free and pro OceanWP plugins, OceanWP theme customization options, WordPress basics, etc. Of course, we tend to cover all our products with new tutorials so that you can be up to speed with the latest features and options.
But, our intention is not for you to only learn OceanWP, but WordPress as well.
The same goes for everything else involving websites, like SEO, typography, design and more. Your overall experience matters to us. And the more we can do to help you on your way to greatness, the happier we are we were able to take part in your growth.
That's also the reason we organize live webinars and workshops on a regular basis. For example, we had a Hollywood celebrity as a guest speaker in this year's Web Design Fest.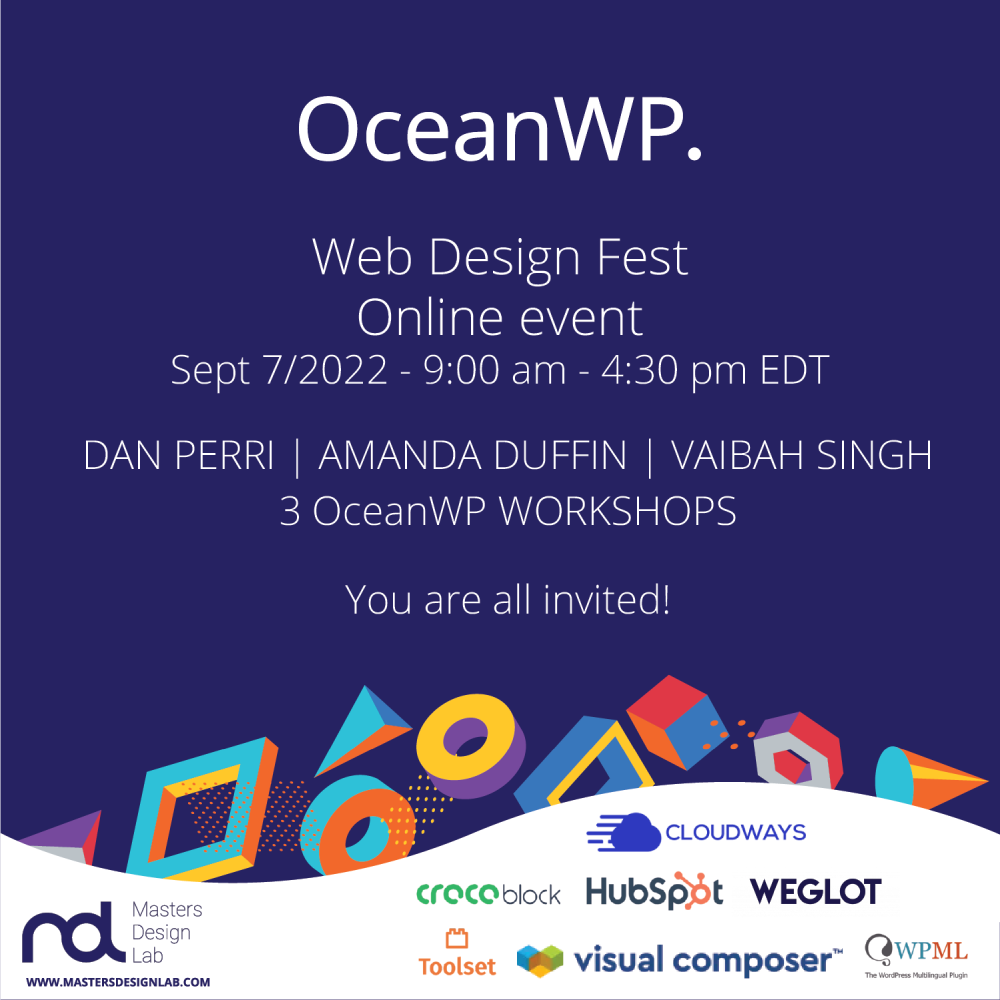 The bottom line is – if you want to learn it, we want to teach it. Likewise, there are many things you can teach us during webinars, by asking the right questions for example 🙂 If you don't mind learning some new things, subscribe to our newsletter and wait for our next webinar invitation.
Hold On, There's More to Mention in This 2022 Review!
Though we've focused on the main highlights in this article, a lot more has been done.
Here are some of the examples of additional features and improvements that serve to empower you to deliver better websites and projects:
SVG files support for your media library,
Make column clickable option for Elementor (part of Ocean Elementor Widgets),
Out-of-the-box Magazine widgets (Ocean Elementor Widgets),
Block editor support for OceanWP Templates (My Library),
Block editor support for Ocean Hooks,
PHP codes support for Ocean Hooks,
New advanced filter for Ocean Portfolio,
Constant accessibility (code-wise) improvements,
Less dependency on third-party plugins,
More user control over features and options (disable everything you don't need or don't want to use), and much, much, much more.
Not using OceanWP WordPress theme yet? Download OceanWP now directly from WordPress and 100% for free!
What do OceanWP team members think about the year 2022 in review
As you can expect, we absolutely love all the features we released in 2022. But our goal is not just to bring inventions or invest in your experience we believe you should have.
You are the ones working with websites on a daily basis, so it's equally important to us to follow your ideas, suggestions and critiques, because OceanWP is built for you. That being said, if you have ideas to share, please feel free to fill out or feature suggestions form.
Here's how OceanWP team members you know best see the year 2022 and their thoughts on features they give advantage to.
Amit, OceanWP developer and a team member since 2018, voted for the OceanWP Panel makeover, Freepik and Flaticons import integration, Block editor support (for templates) and OceanWP performance improvements.
Abhishek, OceanWP tech support expert, voted for the new OceanWP single post header styles, OceanWP Panel makeover and all its supported features, and is really looking forward to the release of one of our upcoming premium plugins.
Shahin, OceanWP tech support expert, voted for the new Elementor Sections Library, new OceanWP single post header styles and options to host Google fonts locally.
2023 Kick-Off – Performance and Features
Here at OceanWP we plan to start 2023 (early January) with a brand new features release – OceanWP Northern Star, as well as the release of a new premium plugin.
Spoiler alert! We have been announcing one plugin, but we actually started working on two new premium plugins.
Though we'll dedicate an article to each of these here's what you can prepare yourself for:
option to preload local Google fonts,
more performance features (options to disable unused scripts),
option to add custom offset for the Scroll Effect script (for anchor links, etc),
Adobe Fonts integration for OceanWP and Elementor, and more.
2023 Promo – Save 50% on All Plans!
The year behind us has been tough on so many levels, but that shouldn't stop you from having a website of your dreams.
We've decided to say Goodbyes to 2022 and Welcome 2023 with a final 50% Off promotion on all OceanWP Bundle plans, annual and lifetime.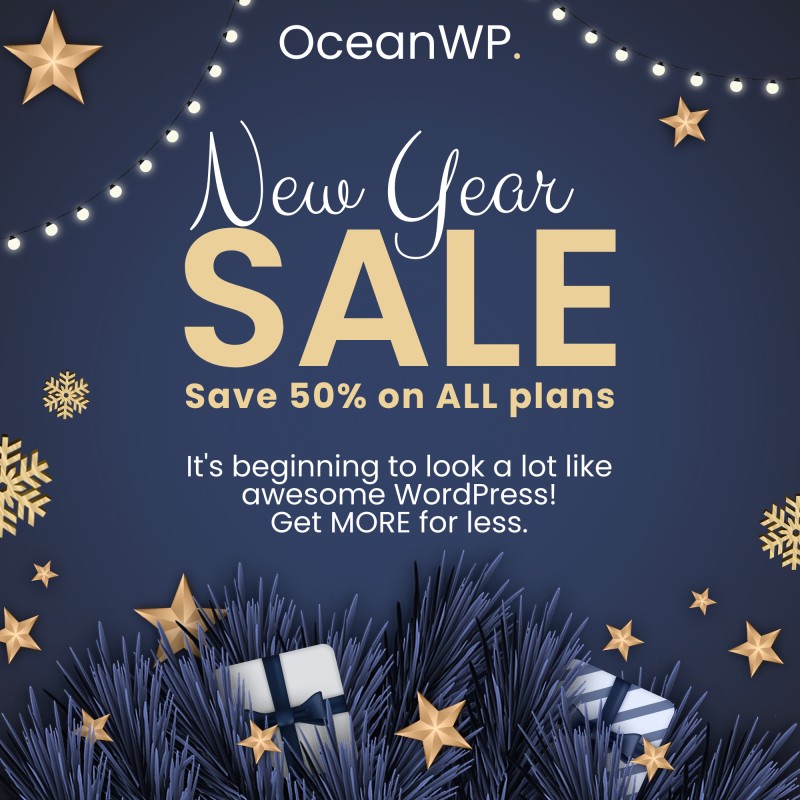 Make it count and start 2023 the right way by ensuring access to all the upcoming features, new plugins as well as discounts for the brand new plugin coming right up in January 😉
And we have more!
Our partners at Masters Design Lab are gifting you as an OceanWP user with a free webinar lecture on Logo Design 101.
The Logo Design 101 lecture will be hosted by Mamen Morillas, a multidisciplinary artist and designer, with a passion for narrative and storytelling. Graduated in graphic design, and illustration by Massana Art School, holds a MA in Motion Graphics by LABASAD (Barcelona). Since then she has collaborated with multiple publications, brands and events bringing a very personal style that characterizes all her work, combining dosis of humor, naiveté, criticism, darkness and fantasy.
The Logo Design 101 live webinar is scheduled for January 6th, 2023 at 6PM UK.
Register now to attend the Logo Design webinar for free or use this time and zone converter for your convenience first.
Wrapping the 2022 Review Up
The OceanWP 2022 was a good year in lots of ways – new partnerships, new features, new projects, new friends. But our work is never done.
For the 2023, our main goals are to work even closer with all of you on new features and that's the reason we always encourage you to submit your ideas. Not only that, but we also plan to help you master WordPress and all that magic called websites through further tutorials, webinars and workshops.
Most importantly, we plan to bedazzle you with new plugins that'll help bring your visions to life, make your sites more GDPR and accessibility friendly, but also enable you to handle projects easier and faster through smart tools.
And last but not least, we want to thank all of you beautiful people for building with OceanWP and forging a more than a simple customer-developer relationships with you. If it's still unclear, you're the ones that make OceanWP special, so cheers to all of you and thank you for being our friends.
On behalf of the entire OceanWP team, we would like to wish you a happier, healthier and more successful year in 2023 – may all your dreams come true and may you always have something new to dream about!
Happy Holidays and a Happy New Year!