Selling on an ecommerce platform like WooCommerce gives you the greatest amount of control over your online store, marketing, product positioning, and other aspects of running a business. 
But can you do more to increase your global reach and engage with new markets who wouldn't have any other way to find your products? This is how selling on multiple marketplaces can help grow an ecommerce business — they give you access to more customers in more places who would likely never find your ecommerce store.
There are several top online marketplaces that have a global reach, and depending on your business, you should consider them all before deciding which ones can best advance your business growth goals, without compromising your autonomy.
How to choose the right marketplace
The best online marketplaces for multi-channel selling include the ones everyone knows, like Amazon and eBay. But there are several others that actually have comparable reach around the world, and are even bigger in some instances. These include Alibaba, Walmart Marketplace, Etsy, and Newegg.
We'll take an in-depth look at each of these so you'll have a clear picture of what each online marketplace has to offer. 
Which parts of the world engage with each online marketplace? How many people visit these platforms, and how loyal are they? 
If you want to reach new markets with your products and believe online marketplaces are the best avenue for this, you need to consider several key factors:
Features: how each online marketplace serves sellers, protects autonomy, and increases revenue without hassle
Pricing: how much you'll have to pay to utilize each online marketplace
Audience: what sorts of people each online marketplace appeals to most
Reach: What volume of potential customers from specific geographic regions that access each marketplace
Let's take a look at each of these six top multi-channel marketplaces.
1. Amazon
Amazon has come a long way from its early days as an online bookseller. It's now about as close as you can get to an everything-seller. But most of what's sold on Amazon comes from other marketplace sellers, including ecommerce businesses who want to expand their reach to new audiences.
Features
Amazon has been doing this for a while, and they've figured out how to make an ecommerce site work, so much so that most ecommerce stores want to be able to use many of the same strategies. With the many WooCommerce extensions at your disposal, you can do most of what Amazon does right on your own online store.
Here are the best features of Amazon Marketplace:
Global availability: set up an account from just about any country on Earth
Phone support in most countries, chat and email in the rest
The ability to set your own prices
A platform to create your own offers and advertise them
Easy review collection, using a system people are familiar with
The ability to build your products and store around keywords to be found in search engines
Performance metric tracking such as order defect rate and fulfillment cancel rates
Fulfillment by Amazon (FBA), which lets you access the Prime Badge and better shipping options
Pre-set product page layouts that take out the guesswork
Fulfillment by Amazon essentially means you ship your products to Amazon, and they store them in their warehouses. This does come with a fee, but then you can offer free two-day shipping for Amazon Prime members, and Amazon takes care of printing labels, packaging, and all the other shipping tasks you would expect.

And shoppers can filter their searches so they only see products sold by sellers who have the Prime Badge, giving you an air of quality and exclusivity.
Pricing
Amazon is one of the more expensive online marketplaces. They have an array of fees, not just one. 
First, you must choose between the Individual Plan and the Professional Plan. With the Individual Plan, you pay 99 cents for each sale you make. This approach is better for sellers who have lower online sales volumes. The Professional Plan costs $39.99 per month, and gives you unlimited sales.
Next, there's a referral fee, which is like the commission fees that every online marketplace charges. It is a percent of your total transaction, including shipping costs. The fees vary based on product category. Most are between 8-15%, but they range as high as 45% and as low as 3%. After that, there's a fulfillment fee that's based on the size and weight of the product being shipped. 
And, for use of Amazon's warehouses, there's a storage fee based again on the size of your products. The storage fees triple during the October to December holiday season.
Is that all? Actually, there may be even more fees for certain situations. 
Why would someone want to pay all these fees just to sell on Amazon?
Because there are some built-in advantages and a huge audience. However, it is also true that with your own ecommerce website, you don't have to pay most of these fees. But, then you have to manage your inventory and your shipping. 
Audience
Amazon is biggest in the United States, having achieved almost total market saturation. 150 million Americans have Prime Memberships — over 70% of adults. 
There are 197 million monthly active users of their app, and Amazon accounts for 56.7% of all retail ecommerce sales in the U.S. So if your audience is in the US, Amazon can reach them. 
Including the U.S., they have about 310 million active app users around the world. So you can reach the mobile audience, too.
Amazon's audience covers all demographics in North America, and in many other countries, and 66% of online shoppers often begin their searching on Amazon. 
Reach
After acquiring Souq in 2017, which was a Middle Eastern ecommerce marketplace, Amazon became the largest online seller in the world. They are concentrated in North America, Europe, Asia, and the Middle East. 
Amazon ships to over 130 countries, and 2.7 billion people have shopped on Amazon. They get 2.72 billion unique monthly visitors. 
So, as for size, you can reach the biggest global audience with Amazon. However, with great size comes great competition, and Amazon also has the largest number of online sellers. So it's not necessarily easy to get your products noticed.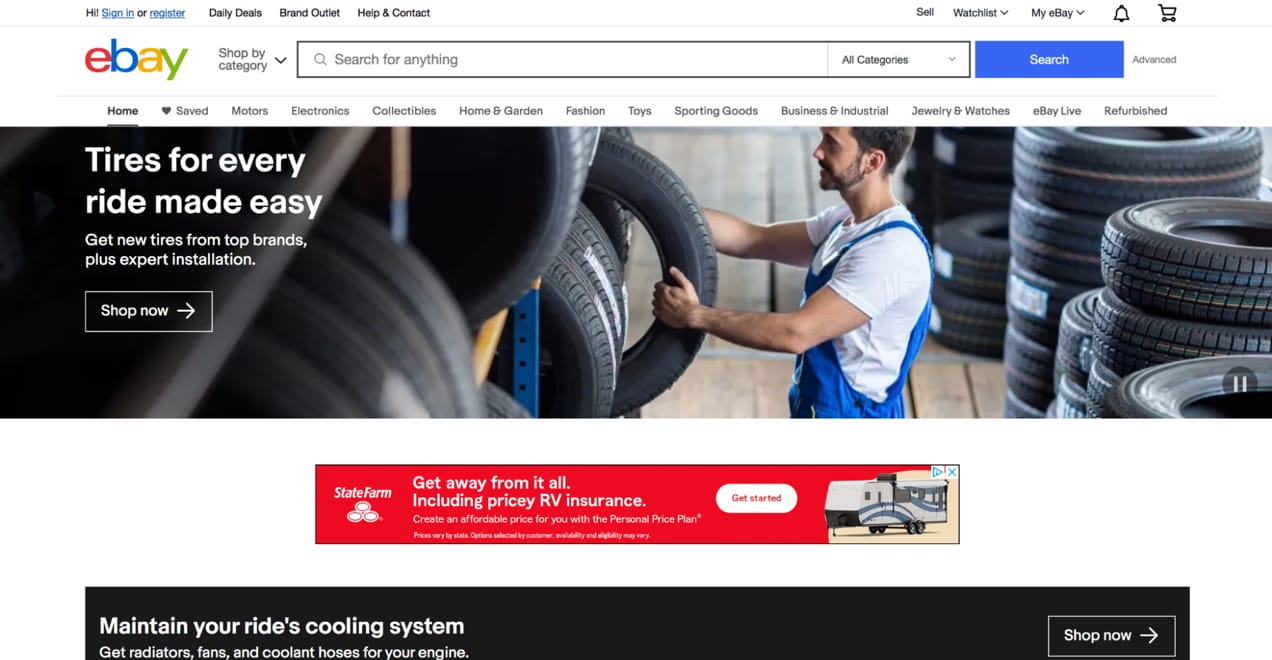 2. eBay
eBay began as a place to sell used items through bidding wars. While they still offer that service, only 12% of the products sold on their site are up for bid, and 80% of products sold on eBay are new.
So it's become an online marketplace with a more loyal group of buyers than something like Amazon. More shoppers may begin their online shopping experience on Amazon, but many of them finish on eBay.
Features
eBay is a true marketplace. They sell no products of their own, so your only competition comes from other sellers, not the online marketplace itself. Other features of eBay include:
Concierge services for larger ecommerce brands 
Seller Hub, the dashboard from which you run your ecommerce business on eBay, where you can publish and manage listings and orders, run sales and promotions, etc
Listing customization capabilities — more than Amazon
The ability to upload videos related to your products
Discounts, coupons, and promotion capabilities, including coupon codes
The option to do volume-based pricing discounts
A subscriber option — you can create marketing newsletters to customers, give subscriber discounts, and build more customer loyalty than with Amazon
The ability to get product reviews
Shipping label printing
The option to promote your products on Google Ads and other online shopping sites, as well as with eBay Ads
Advanced analytics
Daily or weekly pay schedules
Pricing
eBay's pricing model is simpler than Amazon's, but the fees are similar in some ways.
First, there's an insertion fee of 35 cents per listing, but the first 250 listings are free. If you set up an eBay store, you get even more free listings.
Then, you get charged a percentage of the sales price, which is 10% for most product categories, though it ranges from 2-12%. This includes all the processing fees. If you want to lower your insertion fees, you can buy a monthly subscription. For higher volume sellers, this is a smart option. They have three choices, each of which come with increased benefits of selling on the platform, and each of which costs less if you pay annually as opposed to monthly. The monthly costs are:
Basic: $24.95 per month
Premium: $74.95 per month
Anchor: $349.95 per month
Audience
eBay appeals to hobbyists and what some call "enthusiast buyers," as well as people seeking a good deal. It does really well with electronics, their number one seller at 16.4% of items sold on the online platform.
eBay also sells a lot of clothing and accessories (16%), automotive (11%), health and beauty (9%), and sports and outdoor equipment. These five categories account for about 60% of what sells on eBay. But, that still leaves a lot of room for other products.
According to edesk, 61% of eBay's audience is between 35-64 years old, and 60% of them are male, unlike Amazon's near 50/50 split. So your audience includes tail end Baby Boomers, Gen-Xers, and some Millennials. eBay doesn't get as much traffic from Gen-Z. 
Reach
When researching 'reach,' it's important to distinguish between site visitors and buyers. Not every site reporting on the reach of the top established marketplaces for multi-channel selling does a good job of clarifying this, which is why you see vastly different numbers in different places. 
Plus, the ecommerce shopping numbers changed dramatically after 2020, so any data before that is very outdated. 
eBay currently gets about 885 million unique monthly visitors. Per year, about 135 million of these people actually buy something on eBay. 
eBay is the third most downloaded ecommerce app in the US, behind Walmart and Amazon, and 60% of eBay's buyers are in the UK and U.S., with Germany accounting for 15%. So, about three fourths of eBay's audience is in those three countries. 
As for sellers, it's a slightly different story. 28% of eBay sellers are in the U.S., and 25% are in the UK. 17% come from China, 16% from Germany, and 3% from Australia. So you can sell on eBay from almost anywhere, as long as you pay attention to where most of the buyers are located.
3. Alibaba
Many marketers in the west are unfamiliar with this ecommerce giant from China, founded by Jack Ma. But it owns nearly 60% of the Chinese ecommerce market, which means that any ecommerce company looking to expand into China and nearby Asian markets needs to consider jumping on Alibaba or one of its subsidiary platforms, such as AliExpress, Taobao, Lazada, or Tokopedia. Each of these serves different countries in the region. 
Features
Presenting the features of Alibaba is difficult because it has so many different platforms under its overall umbrella, and each has its own unique aspects. For simplicity, we're going to focus on Alibaba and AliExpress. But if you're looking to expand your reach into particular Asian countries, you'll want to look into their other platforms, which we'll touch on more in a moment.
Alibaba is one of the best B2B ecommerce marketplaces. It enables you to buy and sell wholesale products from and to other businesses. With Alibaba you can:
Own your customers' information, unlike on Amazon
Use communication tools to interact with buyers directly
Access CRM tools and analytics
Translate to over 18 languages
Make customizations using an API integration
Coordinate international freight logistics
Receive onboarding support for new sellers
Access product inspection and monitoring
Alibaba uses an RFQ (Request for Quotation) process for customers to place orders, because businesses use Alibaba to buy in bulk from manufacturers and suppliers. So prices are not fixed. It depends on quantities, shipping, and various other factors. 
Sellers can also earn three different ratings: Gold, Verified, and Trade Assurance, which assure buyers they are getting products from reputable suppliers.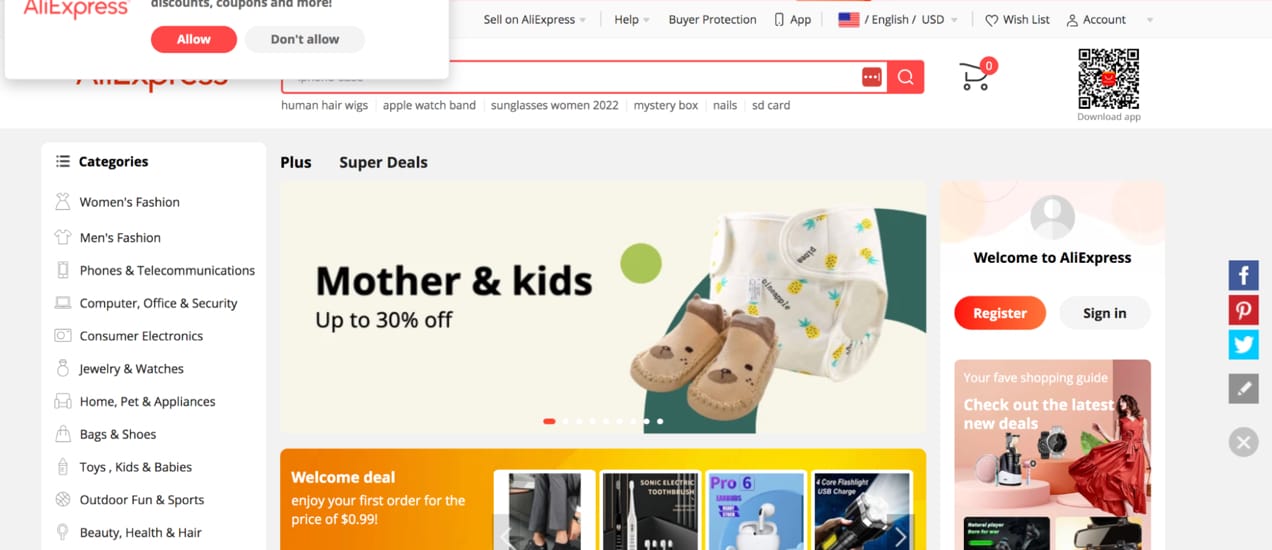 AliExpress
AliExpress is one of many B2C ecommerce platforms under Alibaba's global marketplace. Like Amazon, sellers can sell individual products and ship them directly to consumers. You can also use AliExpress for dropshipping. And like Alibaba, it can be translated into over 18 languages. 
Some more features:
Advertising for increased product exposure
Accept and convert 51 different currencies
38 local payment channels to enable secure transactions
Customizable online storefronts
AliExpress University, an onboarding service to help new sellers
Multiple shipping options
Buyer protection policy for damaged, defective, or undelivered items
Pricing
Alibaba deals in much higher volume than B2C ecommerce marketplaces, so its prices are higher as well. There are no sales commissions charged by the site — just an annual fee, the lowest of which is the Gold Supplier Basic, at $1899 per year.
AliExpress takes the approach closer to other B2C ecommerce platforms. It charges no annual fee, but instead charges 5-8% commissions on each sale. 
Audience
If you want to sell online in volume to other businesses, Alibaba is one of the best online marketplaces for you. Over 10 million buyers from more than 190 countries purchase wholesale from other businesses through Alibaba. You can deal directly with manufacturers, and you'll also find exporters, agents, trading companies, and wholesalers. 
The buyers may be other wholesalers and manufacturers using your products to make other products. They could also be sourcing agents or B2C retailers. You can use Alibaba to create private label brands. 
AliExpress
AliExpress targets the general public and, like Amazon, sells just about anything, from clothing to tools to home improvement products to electronics to beauty products. 
In the countries where AliExpress and other Alibaba B2C ecommerce platforms operate, your target audience includes just about everyone who shops online. Some buyers could also be re-sellers who are setting up dropshipping businesses. 
AliExpress sellers must be located in China, Russia, Spain, Italy, France, or Turkey.
Reach
Alibaba reaches dozens of countries and nearly a billion people. 
AliExpress and the other B2C platforms engage millions of buyers from over 220 countries. They are strongest in Asian nations. In China, the platform is Taobao. Lazada is the platform in Southeast Asian countries such as Singapore, Thailand, Vietnam, Malaysia, and the Philippines. Tokopedia is the platform for Indonesia. 

4. Walmart Marketplace
Walmart began as a brick and mortar department store, not an ecommerce marketplace. But around 2010, they began selling online, and with so much capital from their stores, Walmart has been able to quickly ramp up its online selling platform so that it competes well against the biggest names, including Amazon. 
However, Walmart Marketplace has fewer sellers and for now, that means less competition to get your products noticed. So you can very likely get more exposure for your products on Walmart Marketplace than Amazon. 
Features
While Walmart's ecommerce platform has many similarities to Amazon, the differences are significant. Here are the key features:
A stricter qualification process for sellers — not just anyone can set up a store
The ability to offer free two-day shipping
Advanced listing and analytics tools
Secure checkout
Market reports
Customer review options
Walmart ads that provide more product exposure
An existing supply chain network already in place
Walmart Fulfillment Services, which can store, pack, and ship your products
Walmart Fulfillment Services works very much like Fulfillment by Amazon. You send your products to Walmart's warehouses. Then, when orders are placed, they pack and ship your products for you.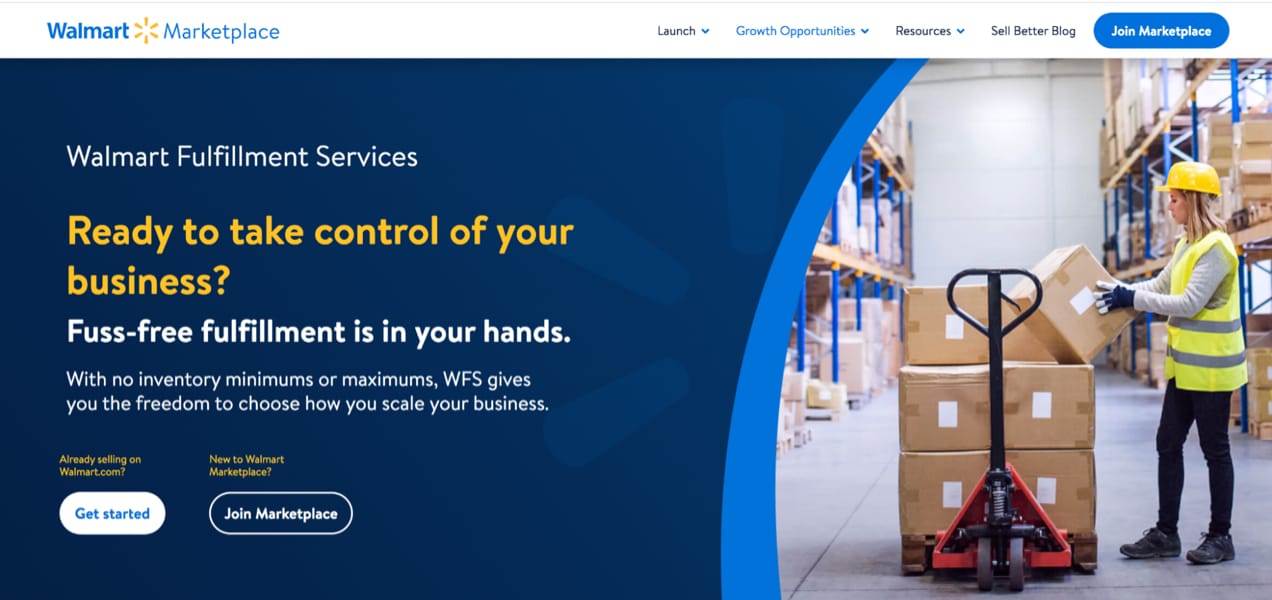 And that stricter qualification process is a good reason to consider Walmart. They only accept sellers who have a record of previous ecommerce success. This ensures that all their sellers are reputable and sell quality products. 
Pricing
Unlike Amazon, Walmart charges no fees for setup, listings, or subscriptions. They just charge a fee per sale, which like other ecommerce sites varies by product category. The range goes from 6-20%, but the great majority or product fees are either 8% or 15%. 
Audience
Walmart benefits from having so many in-store shoppers, and they can offer their online marketplace as an alternative to all of them. Walmart sells just about everything in-store, and their ecommerce counterpart does even more. Their audience is anyone who shops online. 
Reach
Walmart Marketplace gets about 410 million unique monthly visitors, according to one estimate, and it engages buyers from Africa, Canada, Central America, Mexico, India, China, and Chile, as well as the U.S. and parts of Europe.
Walmart's loyalty program currently has over ten million members. So these are people who have extra incentive to shop at Walmart online. 
5. Etsy
Etsy began as a platform for people to sell unique and handcrafted items, not mass-produced products. And for the most part, it retains that mission still today. For ecommerce sellers, Etsy is the place to sell one-of-a-kind items and specialized products. 
If you sell a set of products and want to draw people to your ecommerce store using Etsy, use it to sell unique items, and then follow up later to draw them to your primary store built on WooCommerce. 
Features
Etsy has some features similar to other platforms, such as secure transactions, apps, email and some phone support, and the ability to customize your Etsy shop. In addition, Etsy includes:
Automatic deposits straight to your account
Discounted postage options
An Etsy ads platform where you can pay to boost visibility
Direct communication with buyers through the Seller App
Seller protections
An affiliate program you can use to encourage other people to sell your stuff
A seller newsletter and handbook
Access to a community of other sellers
Etsy does have a reputation of being a bit harder to show up in search for particular items, and this motivates some to purchase Etsy ads. You have to be very deliberate in how you create product pages, including the language and keywords you use to describe your products.
Pricing
Etsy has a very simple pricing structure. They charge 20 cents per listing, and that listing remains active for four months. Then, for each sale, you pay a 9.5% transaction and processing fee that includes everything. 
And, Etsy runs ads for your products all over the internet, mostly using display ads featuring photos of your products. You don't have control over this and it costs nothing for you unless the ad results in a sale. For any ads that do result in a sale, you'll pay an additional fee per sale.
Audience
Etsy's audience is very distinct from the other top marketplaces online. Etsy shoppers are looking for items they can't find anywhere else. They want stuff no one else will own. It's a form of treasure hunting. 
This is the place to sell unique items that can earn you a reputation as a creator, an artist, and an imaginative product designer who puts time and creativity into each item.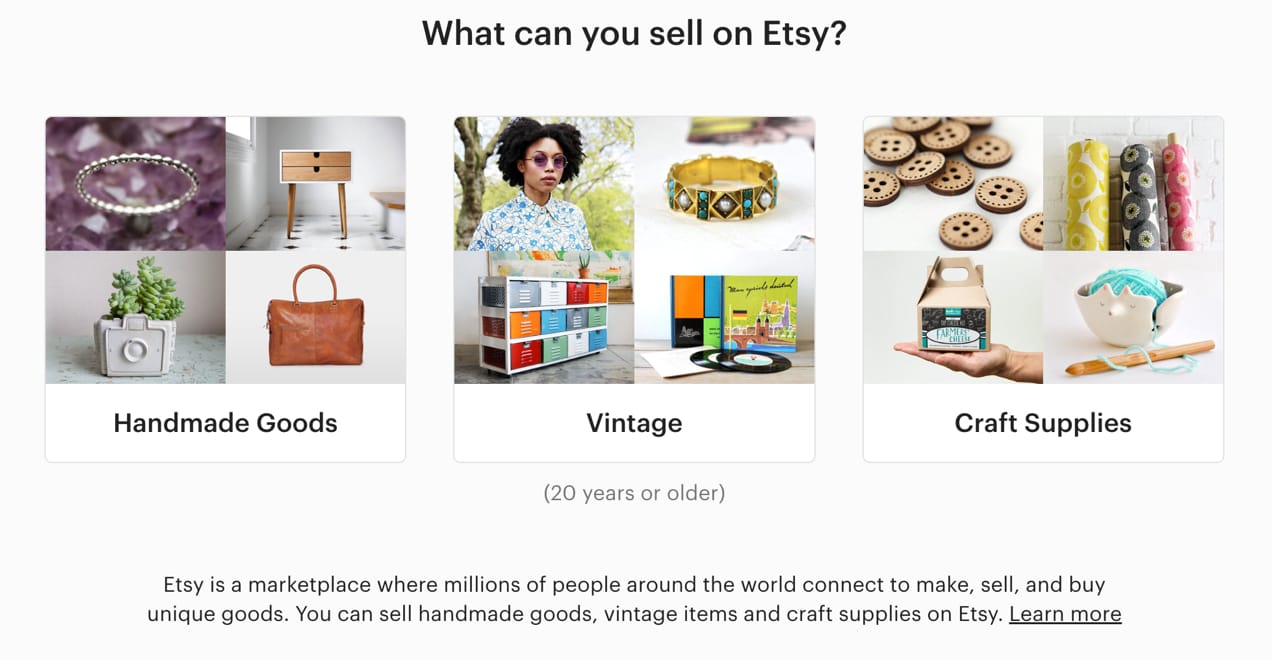 The vast majority of shoppers on Etsy are women, generally between ages 18 and 40. 
Their top-selling product categories are home and living, jewelry, craft supplies, and tools. They sell lots of products for weddings and bridal parties. 
Reach
Etsy has a narrower reach than other top marketplaces. While they do reach over 200 countries and have 86 million active users, about half their online sales go to the U.S., and almost all the rest go to the UK, Germany, Canada, Australia, and France. 
Etsy also has a base of loyal shoppers, with 81% of purchases made by repeat buyers. So if Etsy's audience aligns with your products, you can win loyal customers more easily on this online marketplace than some of the other more generic ones on this list.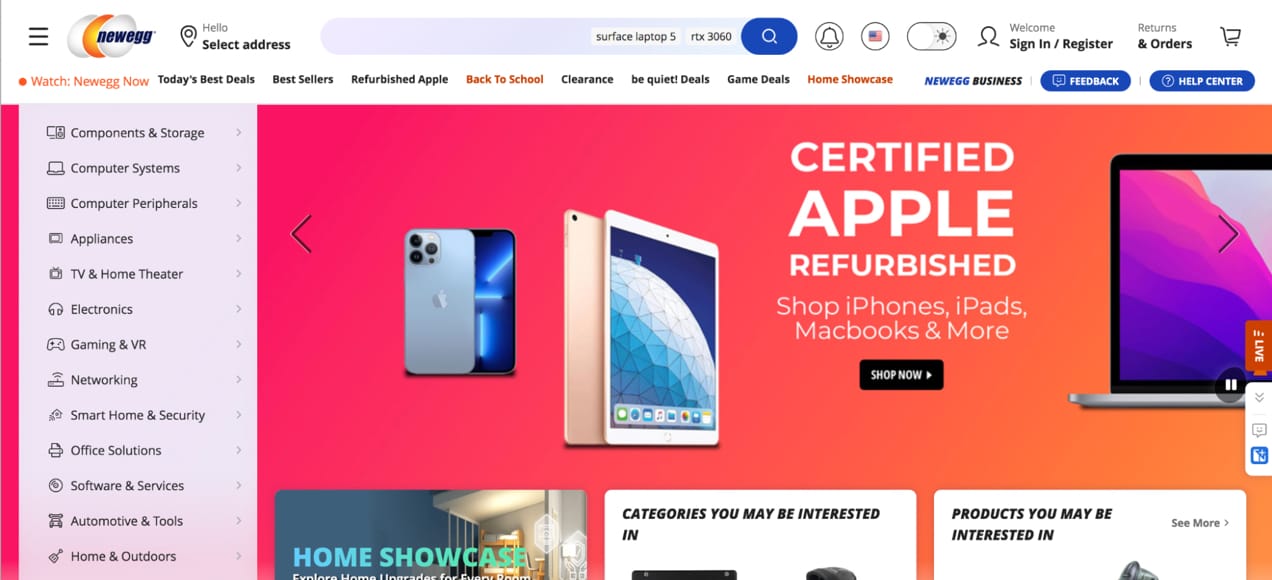 6. Newegg
Newegg began as a tech-focused ecommerce marketplace, and it continues to dominate that industry category. But, it has also expanded to several other categories and has become one of the top marketplaces for ecommerce businesses to sell their products. 
Features
Newegg delivers real benefits for its best sellers — those who pay for a monthly membership. The features for this marketplace depend very much on which membership you choose between their three options of free, Professional, or Enterprise. 
Like Walmart, Newegg requires sellers to get approved before they can use their ecommerce marketplace, so this ensures a level of quality for the products they sell. Some of their key features include:
A knowledgeable and focused audience
The option to sell used and refurbished items
The ability to promote products on their site, including Sponsored Video Ads
Dedicated support
API integration
Advanced product listings that can include video and touchpoint imagery to help customers make good decisions
Access to Newegg Studios — they'll actually produce videos and photos for your products
Unlimited product listings with the Enterprise membership
Post-purchase email automation with the Enterprise membership
Discounts if you use Newegg Fulfillment and the Newegg Shipping Label service
Rewards for sellers who price competitively 
A Premier Seller Program that gives you access to the biggest spenders
The option to advertise on Newegg's social accounts and promotional emails
Like Amazon and Walmart, Newegg has a fulfillment and shipping label service, and if you have the inventory for it, that's a good option because it will cut your costs. 

Pricing
There's a free version, but the Professional version at $29.95 per month and the Enterprise membership at $99.95 per month give you access to the best features. 
Audience
Newegg's audience remains heavily tech-focused and knowledgeable. You'll find more early adopters here than most other places and, in general, a wealthier audience. Unlike Amazon, Walmart, and Alibaba, people who shop on Newegg tend to have incomes of $75k per year or higher. And their audience is about 72% male and mostly between 18-44. 
Other than a wealth of electronics and accessories, Newegg also does well with home cooking and appliances, and is growing into sporting goods categories. 
Newegg shoppers love to look at product specs, so this is not the platform to go light on the details. You want to include lots of information on your product pages here, and seriously consider including videos. Thirty-two percent of their shoppers are repeat customers. 
Reach
Newegg has about four million active customers across Europe, South and North America, the Middle East, and Asia Pacific. 
So it's a smaller audience, but one that spends more and is looking for particular types of products. Like Etsy, you can gain a stronger and more devoted following here than on the big broad marketplaces. 
Why sell on WooCommerce as part of your global strategy
Online marketplaces can be excellent gateways into the world of online selling. They're also a great way to meet your audience where they are, in places they're already shopping.
But when it comes down to it, the best way to grow your online business and maintain full control is to start your own store with WooCommerce. Let's take a look at a few reasons why this is true:
1. Marketplaces promote competitor products
Third-party marketplaces want all of their users to find success, and your business simply isn't their primary focus. So when potential buyers are scrolling through or searching for products, they'll not only see items from competitors next to yours, they may also get ads for those items. 
With a marketplace, it's much easier for shoppers to choose a different business over yours. But with a tool like WooCommerce, you can create a website that helps shoppers find what they're looking for and seamlessly make a purchase, without distractions from other stores.
2. Marketplaces provide limited options for design and functionality
With online marketplaces, you have to adapt your product listings to meet their requirements for formatting, images, design, categorization, and description length. That means that you may not be able to include all of the information you'd like.
And since you're working within a set design template, you may not be able to customize it to match your brand. Your items will look very similar to everyone else's.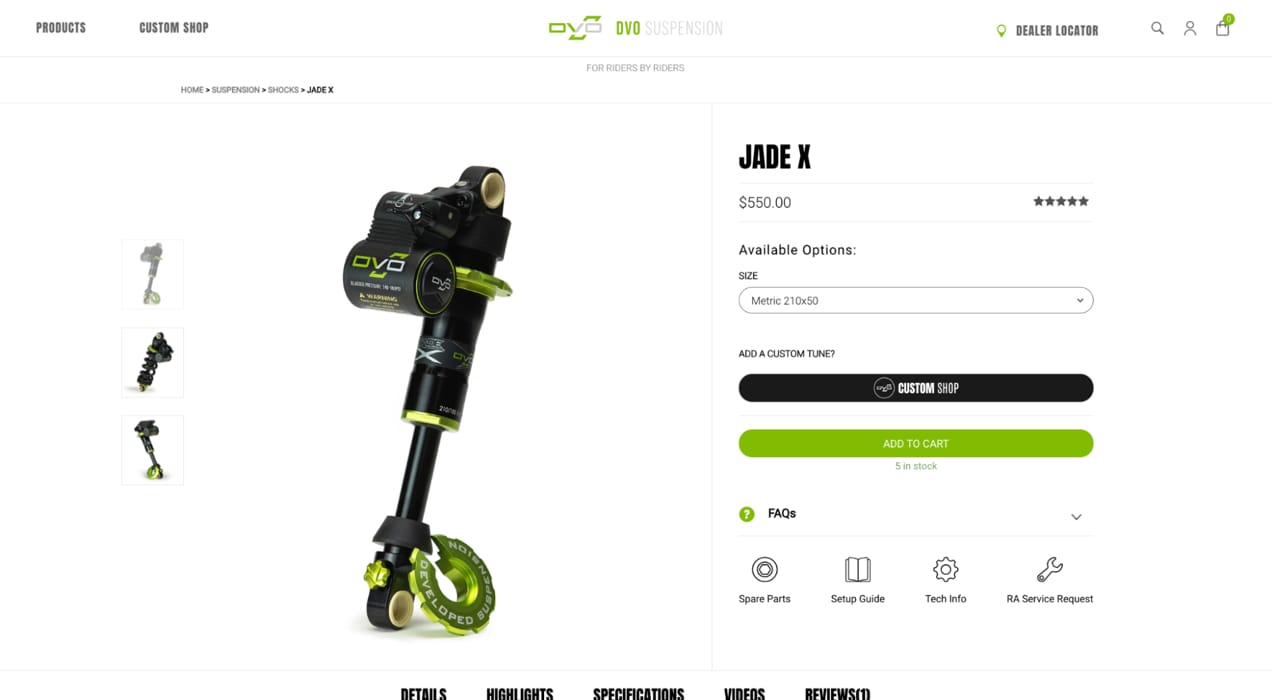 With WooCommerce, however, you can create the exact sort of store and product listing that you'd like. Add lots of photos and videos, include size charts and ingredient lists, and customize the entire look and feel to fit your brand
3. Marketplaces take a percentage of sales
Third-party marketplaces take a cut of your online sales in exchange for using their platform. As you grow, this can add up more and more. But WooCommerce doesn't charge any fees for selling online.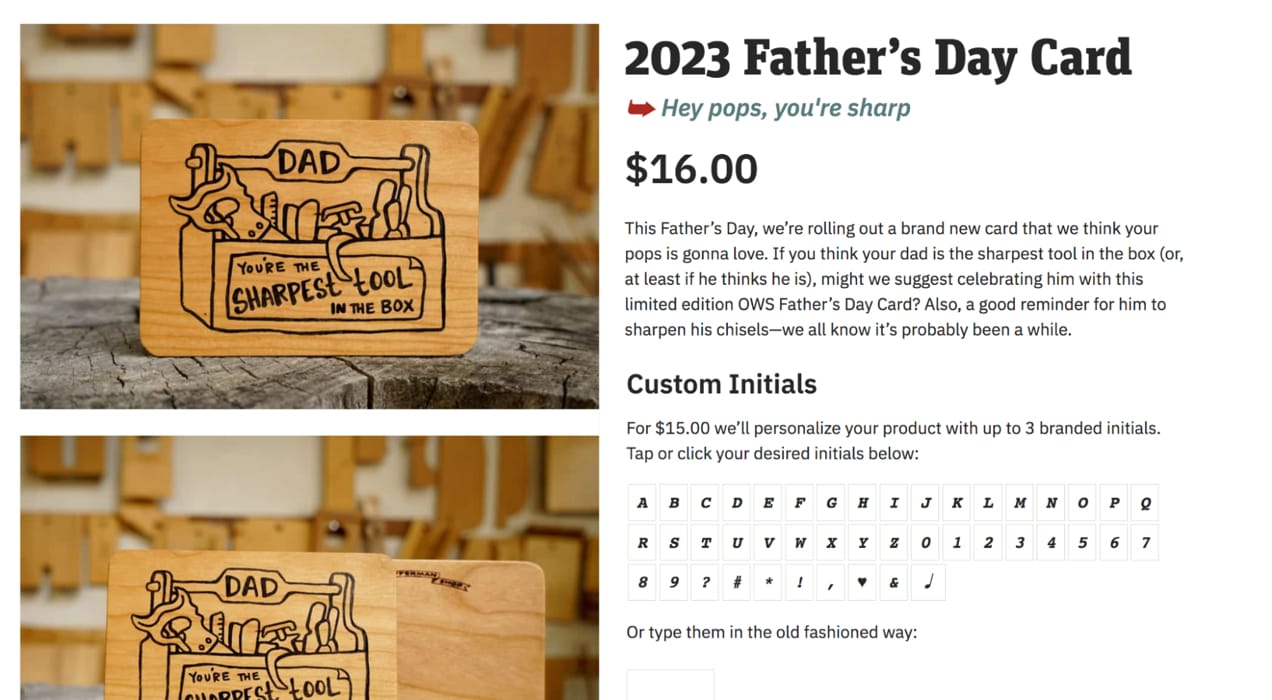 4. Marketplaces limit your control
When you sell on a third-party marketplace, you're subject to their rules and regulations. If they determine that you're in violation of those rules, they can take down your store, sometimes without warning. That means that you'll suddenly lose your revenue stream and possibly the content you've created.
But with WooCommerce, you have full control and ownership over your website. You can also set up backups that save absolutely every element of your store, including sales and customer information. So if something ever goes wrong, you can quickly get back up and running.
5. Marketplaces make marketing trickier
While some third-party marketplaces provide built-in marketing tools, these can become limiting as you grow. You may not be able to integrate the tools you'd like for advertising, email marketing, customer relationship management, search engine optimization, and more. It may also be trickier to compile customer data and effectively engage with those customers.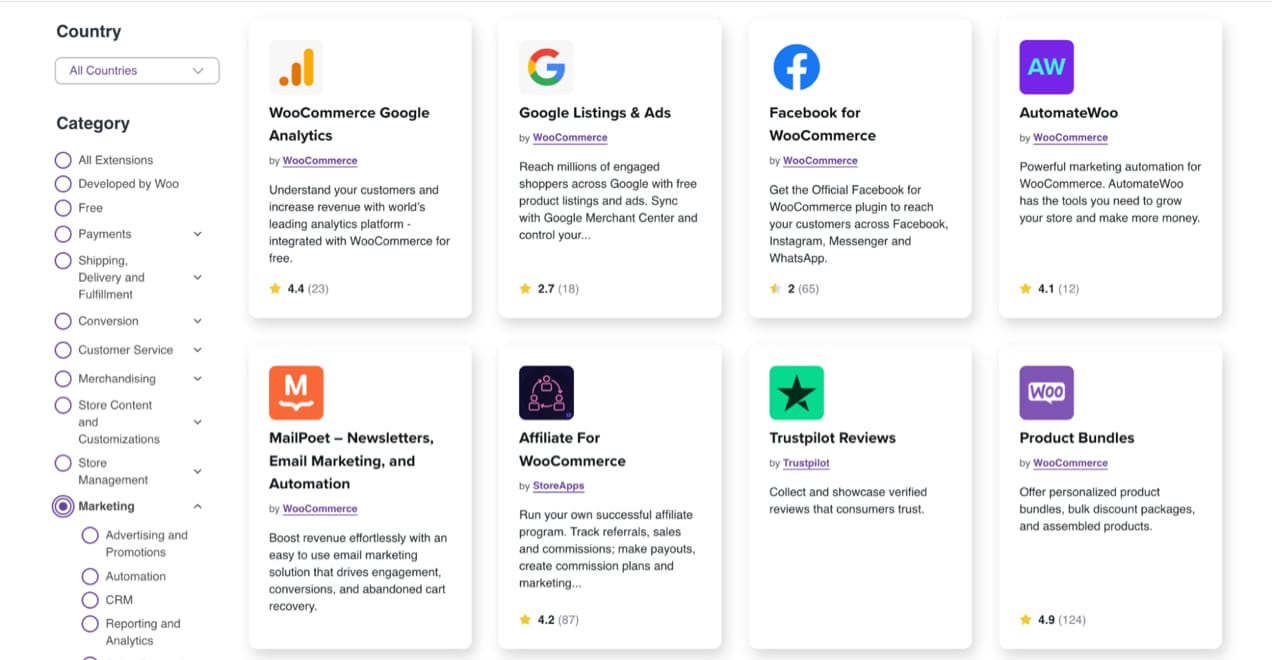 When you run a store with WooCommerce, you can harness the power of extensions to integrate nearly any marketing tool you'd like. Don't see the perfect solution for your store? Hire a developer to create a custom integration. 
6. Marketplaces can make it harder to adapt
As you grow your business, you'll likely need to make important changes to accommodate more sales. For example, you might want to update your shipping or marketing strategy, accept a variety of currencies, translate your content into multiple languages, or integrate with fulfillment or inventory management software.
Third-party marketplaces can make it difficult to make these sorts of changes. They may not integrate with the tools you want to use. Or perhaps they won't allow you to make the modifications you need to sell globally.
With WooCommerce, you can accept hundreds of currencies, set up shipping in any number of ways, integrate with lots of tools, and customize your store any way that you'd like as you grow. You can also choose any hosting provider necessary to provide the resources, tools, and support needed to accommodate an increase in traffic.
When it comes down to it, WooCommerce is the best way to build and grow a successful online store. You benefit from a system that's easy to use (no code required!), ultimate flexibility, top-notch support, and full control.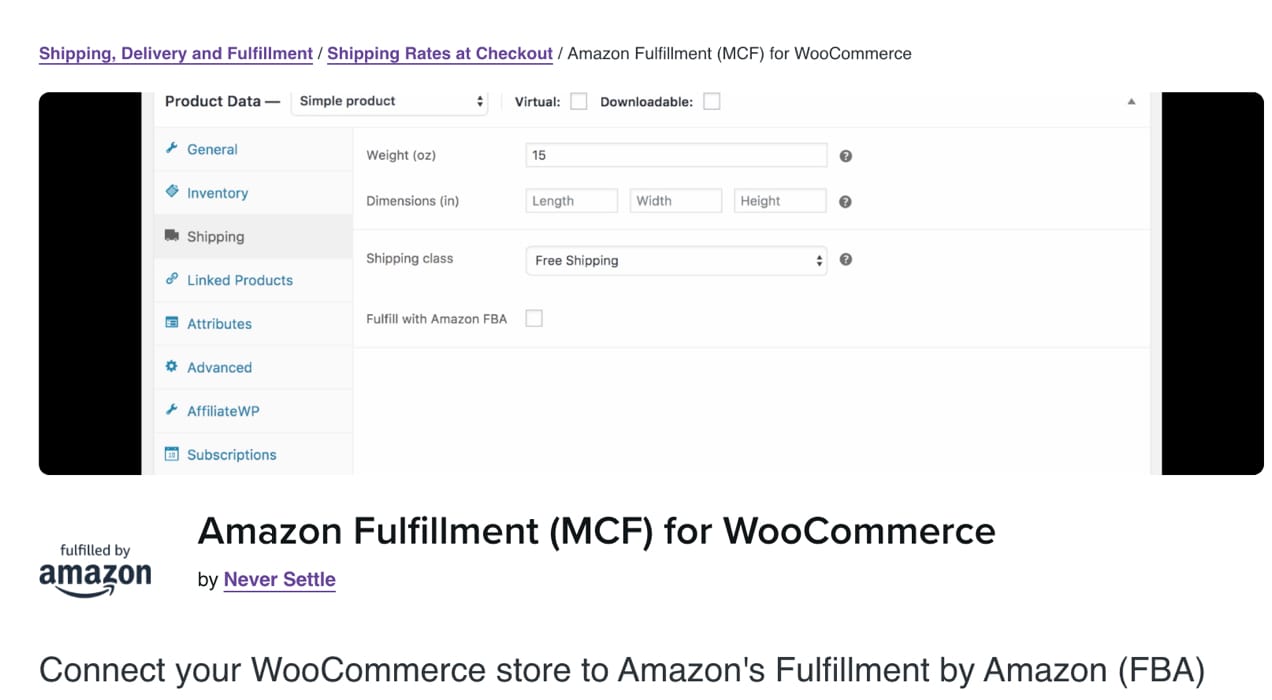 And you can run your WooCommerce store right alongside your third-party marketplaces, even integrating them to seamlessly to sync product information, inventory levels, pricing, and more.
Ready to get started? Open your storefront today.
Original article written by Kathryn Marr >