Do you want to create a Net Promoter Score (NPS) survey in WordPress? Net Promoter Score is a popular method to measure customer loyalty, so you can improve your brand image. In this article, we will show you how to easily create a Net Promoter Score® Survey in WordPress, and how to properly use it to improve your business.
What is Net Promoter Score?
Net Promoter Score is a management tool that helps businesses measure customer loyalty. The idea was first introduced in 2003, and since then more than two-thirds of Fortune 1000 companies have adopted it.
Here is how it works.
It is based on a single question, 'How likely is it that you would recommend our company/product/service to a friend or colleague?'.
The answer is provided on a scale of 0 to 10.
Customers who respond with a score of 9 or 10 are called 'Promoters'. These are your brand's most loyal customers and are highly likely to purchase again and recommend your business to others.
Users who answer with a score between 0-6 are considered 'Detractors'. These are the customers who are unhappy with your business and are least likely to purchase or recommend your business.
Customers responding with a score of 7 or 8 are called 'Passives'. They can be either promoters or detractors and are less likely to actively recommend your business and products to their friends or colleagues.
Your final NPS score is calculated by subtracting the percentage of detractors from the percentage of promoters. The overall score ranges from -100 to 100.
A -100 score means all customers are detractors and a full 100 score means all customers that took part in the survey were promoters. Normally, a score of positive numbers (0-40) is considered good, and a score of 50 or above is considered excellent.
Due to the popularity of NPS surveys among businesses, there are numerous very expensive survey tools that will charge you hundreds of dollars per month. These solutions are not very affordable for small businesses.
Luckily, you can use a WordPress survey plugin by WPForms which helps you create powerful NPS surveys at a fraction of the cost.
Let's take a look at how to create a Net Promoter Score survey in WordPress.
Creating a Net Promoter Score (NPS) Survey in WordPress
First thing you need to do is install and activate the WPForms plugin. For more details, see our step by step guide on how to install a WordPress plugin.
WPForms is a paid plugin, and you will need at least their Pro plan to access their surveys addon used in this tutorial.
Upon activation, you need to visit WPForms » Settings page to enter your license key. You can find this information under your account area on WPForms website.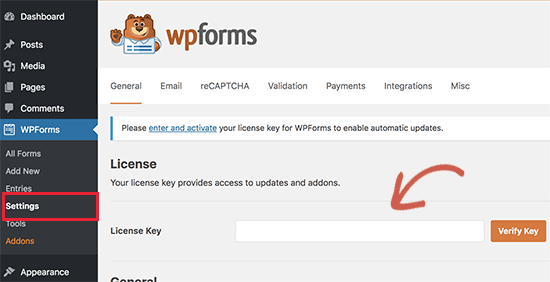 After entering your license key, you need to visit the WPForms » Addons page and locate the 'Surveys and Polls Addon'. Go ahead and click on the 'Install Addon' button.
WPForms will now install the addon. Once finished, you need to click on the 'Activate' button to start using the addon.
You are now ready to create your first Net Promoter Score survey form.
Head over to WPForms » Add New page to create a new form. First, you need to provide a title for your form, and then select 'Survey Form' from the templates below.
WPForms will now load the form builder interface with some typical survey form fields. This is a drag and drop form builder where you can just point and click to edit any existing form fields or add new fields from the left column.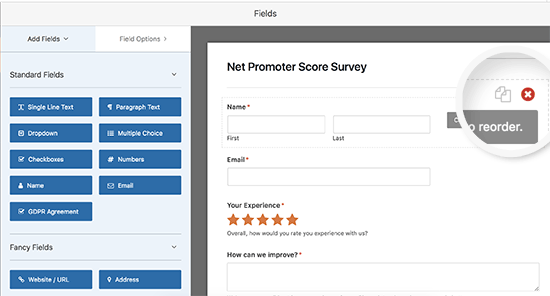 Net Promoter Score survey usually has just one question, which means we don't need all these fields. Simply take your mouse over to each field and then click on the delete button to remove them.
After deleting all fields, click on the 'Net Promoter Score' field under the left column to add it in your form.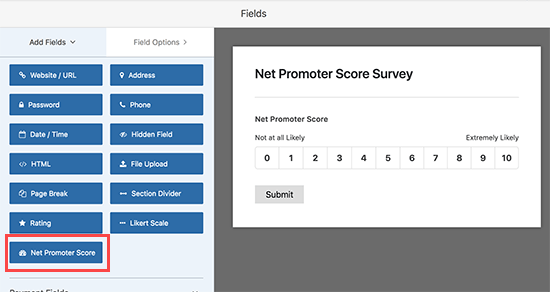 Your Net Promoter Score survey form is now almost ready. Simply getting the score is not very helpful because you don't know why these customers are unhappy or happy.
Let's add some smart conditional fields to the form to get more helpful feedback from users.
Adding Conditional Logic to Net Promoter Score Survey Form
WPForms comes with a smart conditional logic feature which allows you to show or hide form fields based on user's answers to previous form fields.
You can use that feature to ask users for more feedback based on their answer. For example, you can ask users who select a score between 0-6 to give you another chance to make things right. These customers are unhappy and asking them for an opportunity to make things right will help you improve your relationship with these customers.
Similarly, you can also ask users giving a score between 9-10 to leave a testimonial and ask for their permission to share it on your website. These are your most loyal customers, and their testimonials can help you add social proof to your website.
Let's add these conditional fields to your NPS survey form.
First, click on the 'Paragraph Text' field under the left column to add it in your form. After that click on the form field to edit the label.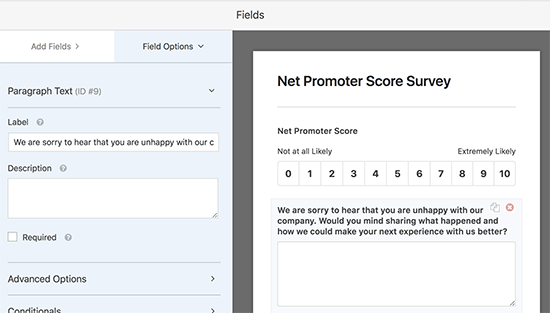 We only want to show this field to users responding with a score between 0 and 6. To do that, we will add conditional logic to this form field.
Click to select the form field and then click on the 'Conditionals' menu from the left column. Now, click the checkbox next to 'Enable conditional logic' option.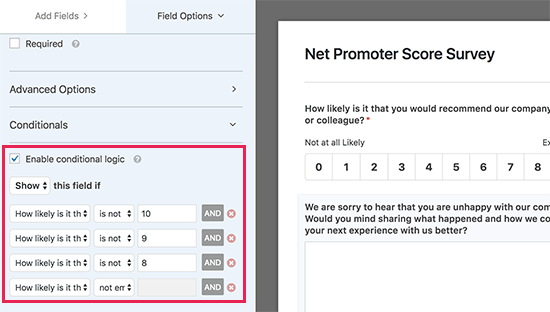 Now WPForms will display conditional logic rules. We will add rules to show this field if 'Net Promoter Score' field is not between 8 and 10.
You will need to add a rule for each value. You will also need to add a rule to only show this field when the survey field is not empty.
You can also repeat the process to add another Paragraph Text field to be displayed when users give a score between 9 to 10.
For those giving a score of 7 or 8, you should have a similar paragraph text field asking them for their top suggestion to improve the product. Typically these customers are happy with the overall product, but need one or two things to turn them into promoters.
Adding Your Net Promoter Score Survey in WordPress
WPForms makes it super easy to add forms to any post or page on your website.
Simply create a new page or edit an existing page. On the page edit screen click on the 'Add Form' button.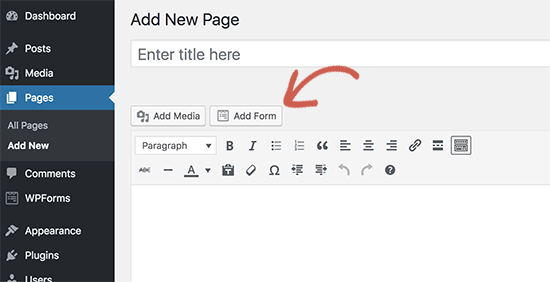 This will bring up a popup where you need to select the survey form you created earlier and click on the 'Add form' button.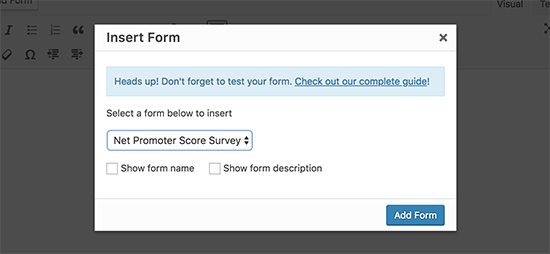 WPForms will now add the required shortcode to display the form in your page edit area. You can now save your changes and visit your website to see the form in action.
Now, whenever a user selects a score between 0 to 6, they will see another form field asking for their feedback.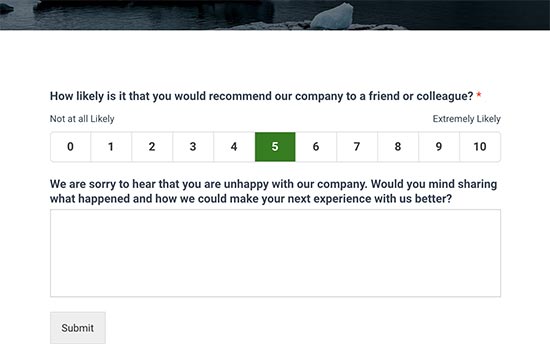 Viewing Your Net Promoter Score Results
After your form is live WPForms, will start calculating your Net Promoter Score based on survey results. You can send the NPS survey link to your customers using an email marketing service to encourage them to fill it out.
After a few users have filled the form, you can go ahead and check your score.
To do that, head over to WPForms » All Forms page. Click on the 'Survey result' link under your Net Promoter Survey form.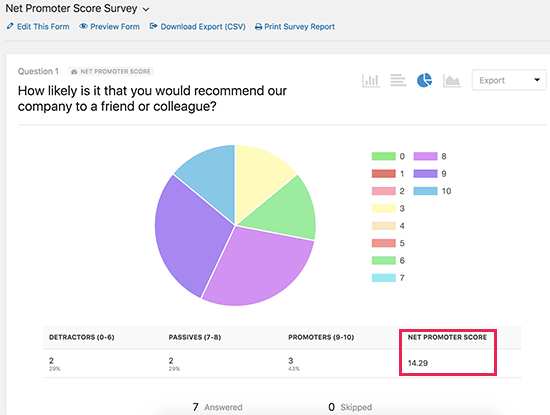 WPForms will now display your total Net Promoter Score along with the number of promoters, detractors, and passives. It will also break down the results in beautiful charts, bars, and graphs.
You can use the feedback from users to improve your product, add new features, as well as offer support to unhappy customers and turn them into loyal brand evangelists.