Now it's official!
It is with great happiness that we announce that your dream custom eCommerce website with OceanWP and an in-house tool is now a reality!
If you've been following our progress during 2022, you know we have been announcing a brand new premium plugin since August. In the meantime, and as it so often happens, we actually started working on two new plugins.
However, the one plugin we have been anticipating, probably as much as you did, has been officially released. Please allow us to introduce you to the Ocean eComm Treasure Box premium addon for WooCommerce.
Ocean eComm Treasure Box
Ocean eComm Treasure Box – or just Ocean eCommerce for short – is the latest premium addon by OceanWP that enables you to build, style, customize and optimize your online store as you wish.
The Ocean eComm Treasure Box empowers all website owners to build their dream custom ecommerce website with OceanWP and WooCommerce.
Ocean eCommerce Lead Advantages
There's actually a stack of advantages when designing and building a custom eCommerce website with OceanWP and Ocean eComm Treasure Box.
Besides combining the already amazing WooCommerce styling features that come included with the OceanWP WordPress theme, the key advantages are:
Levels of controls: you control the entire process of the design and decide which pages should make use of custom templates.
Styling and optimization: make use of the inbuilt OceanWP WooCommerce Styling or style from scratch and optimize until perfection.
Unlimited A / B testing: every online shop has their target audience. With Ocean eCommerce you can build as many templates as you like and perform unlimited tests to see which magic formula works for your products and your customers.
Build a Custom eCommerce Website with OceanWP, WooCommerce and Ocean eComm Treasure Box
Ocean eCommerce enables WordPress users to create a 100% custom eCommerce website based on WooCommerce.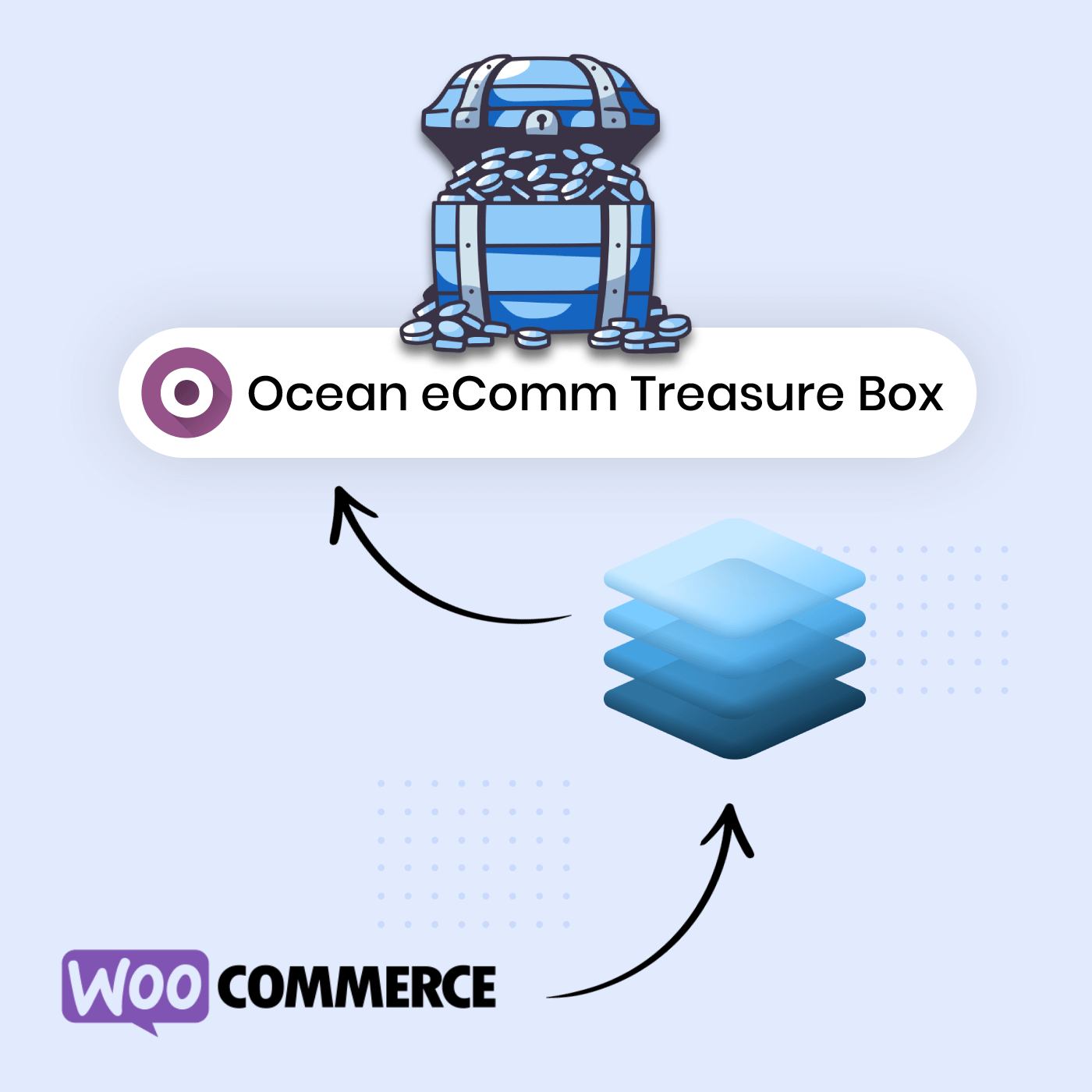 WooCommerce is the world's most popular eCommerce solution. It's not only free, but also allows you full freedom, meaning that you and only you are the owner of all your online store's content and data forever.
If you're new to WordPress, OceanWP or WooCommerce, but would like to see if running an eCommerce website is the right solution for your business, you can always start free with OceanWP. The OceanWP WordPress theme bundles an enormous amount of styling options and features for WooCommerce. Most importantly, all customization options are only a click away by making use of the OceanWP Customizer and its live preview options.
OceanWP Premium users have also been enjoying the variety of prebuilt full website templates for eCommerce websites. Now, the time has come to raise the bar and take the custom eCommerce website experience onto another level with Ocean eComm Treasure Box.
Ocean eCommerce Builder Support
For the initial release, the Ocean eComm Treasure Box plugin supports free Elementor page builder. Of course, you can also combine it with the pro version, but it's important to emphasize that no third-party premium plugins are necessary to run or operate any of the OceanWP free or premium plugins.
Additional builder methods are planned 🙂
Custom eCommerce Website Templates Support
Ocean eComm Treasure Box enables you to create custom templates for 14 default WooCommerce pages.
Those default WooCommerce pages include but are not limited to:
Shop page,
Single Product page,
Thank You page,
Checkout page,
Cart page & more.
Check out the full list of default WooCommerce pages supported by custom templates.
How Do Custom Page Templates Work
By default, your eCommerce website is making use of all the default WooCommerce pages.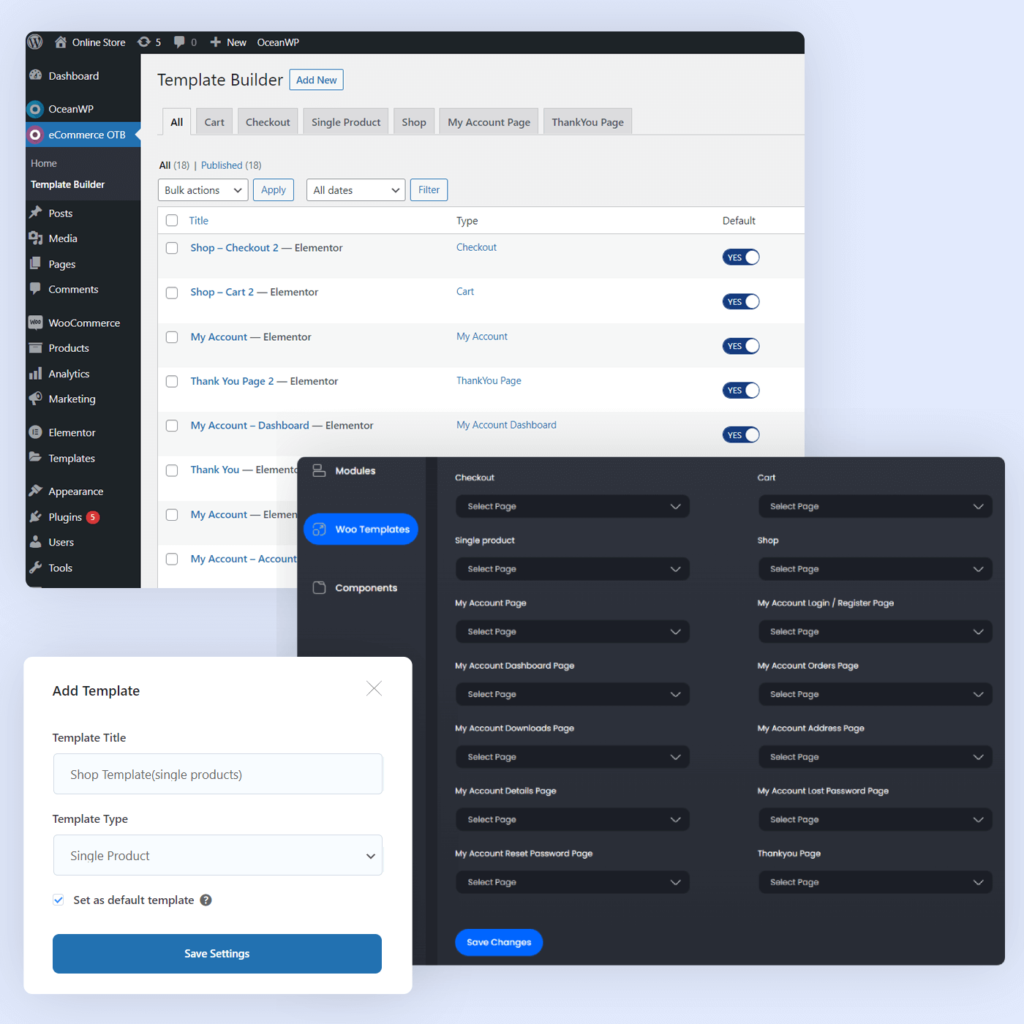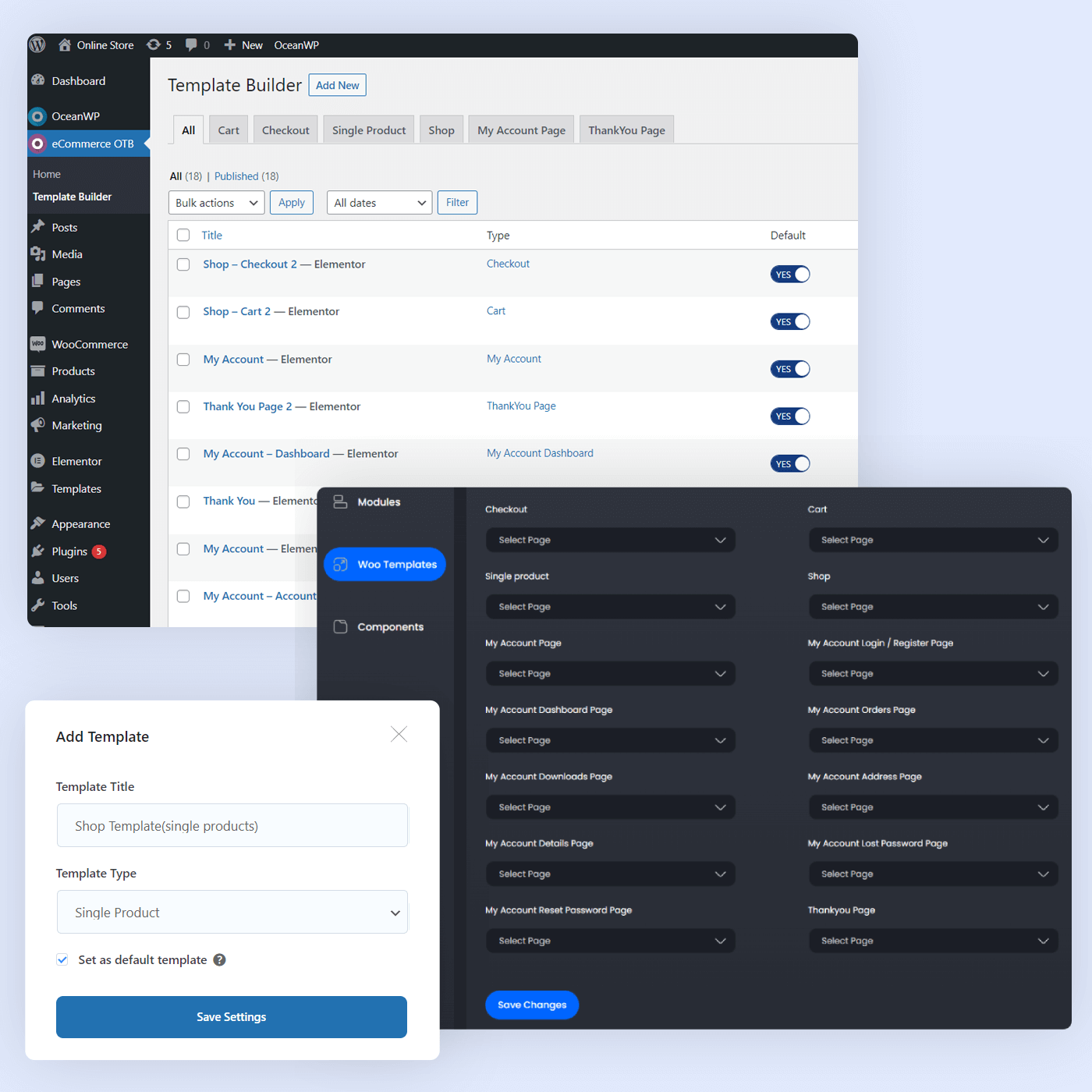 Thanks to the vast OceanWP inbuilt customization options for WooCommerce (and, while we're at it, these are 100% free), you can style and customize these pages directly through your Customizer: Customize > WooCommerce.
Besides the existing loop builders (elements display and positioning) for WooCommerce archives and single product pages, multiple and different styling options (for example the page layout, thumbnails layout, tabs layout and more), sometimes you just need to offer your customers something different. Sometimes you need to go further and offer more. Sometimes you just need a custom page template.
And that's where the Ocean eComm Treasure Box addon steps in.
Go above and beyond and come up with the perfect template for a single product page or checkout, and optimize your online store for fast ROI and increased revenue.
Once you create a custom page template, you can mark it as the default template directly from the Templates section or through your eCommerce OTB dashboard > Woo Templates.
All other pages, that are not making use of the custom templates, will remain as is and you can style them directly through the Customizer.
Budget Control, Unlimited A/B Tests and ROI for Custom eCommerce websites
Ready-to-use eCommerce platforms (outside of WordPress) do look quite handy but are limited in functionality.
Each time you'd like to change the template or design, you need to be ready to inject more cash into that venture. WordPress, WooCommerce and Ocean eComm Treasure Box function differently.
You can create as many templates as you like and as you see fit. Whenever you wish to change a template, it costs you nothing.
This freedom and ability to perform unlimited A/B testing work wonders for your budget, but also empowers you to get to the perfect sells-on-its-own eCommerce solution for your online store. In return, you'll get a more converting eCommerce website and a fast ROI (return on investment).
Did we hear you say high-conversion, fast ROI and budget control are the essential for any business? Because you are right and the chance is yours to grab it!
Though, there's more to this success formula than just templates. Let us show you the other features as well.
Ocean eComm Treasure Box Combines Multiple Features at Once
Running new features would not be such a joy and pleasure without making sure your life gets easier with the process which is the reason Ocean eComm Treasure Box addon for WooCommerce combines multiple features at once.
Old Features In a New Way
When it comes to eCommerce websites, two of the most used premium Ocean features are by far:
Ocean Sticky Header (makes your website's header sticky on scroll) and
Ocean Woo Popup (helps increase conversion rate by displaying a popup on Add to Cart action. Content controlled by you).
Both of these premium plugins are a part of the OceanWP Core Extensions Bundle (aka The Bundle, aka Ocean Bundle, aka OceanWP Pro, you get the idea 🙂 ).
To save your time, as well as to reduce the plugin number, we added both of these features directly into the new Ocean eComm Treasure Box addon for WooCommerce.
This means that – regardless of your OceanWP Bundle license status and whether you have a Bundle license or not – you will be able to use the Sticky Header and Woo Popup features if you have the Ocean eCommerce license.
Likewise, if you already have the Bundle but would just like to reduce the number of plugins since you'll be already running Ocean eCommerce on your website, you can remove these plugins and activate the new options directly from your Ocean eCommerce dashboard, Components tab.
As far as the functionality goes – everything remains the same. If you're an OceanWP premium user and have been working with Ocean Sticky Header or Ocean Woo Popup (or both) in the past, there won't be any learning curves.
But, there's more!
The Checkout Fields Manager
Now, full process control and optimization would be incomplete without such a nifty feature, wouldn't it? Most importantly, you don't need to use third-party plugins to achieve this functionality anymore.
Ocean eComm Treasure Box premium addon for WooCommerce allows you to completely customize your checkout.
The Checkout Fields Manager allows you to customize and optimize:
the billing field,
the shipping field, and
the additional info field.
What exactly can you do with the Checkout Fields Manager? Well, everything!
Some of the Checkout Fields Manager options include:
decide which fields will be mandatory,
remove existing fields,
add brand new fields,
rename or repurpose existing options,
control default values,
control placeholder text,
enable validation, etc.
And, did we also tell you that the new Checkout Fields Manager supports the loop builder?
Exactly! Besides controlling the fields and content, you can also change their order of appearance for 100% optimization.
Check out the support documentation on how to use the new Checkout Fields Manager.
Product Swatches
The Checkout Fields Manager is not the only new feature we bring to your custom eCommerce websites. We also have the Product Swatches feature for you!
Though the OceanWP theme did always support default WooCommerce product swatches, one thing was missing – the option to customize and style product swatches.
What does the Product Swatches module for Ocean eComm Treasure Box bring to the table?
On top of the fact that from now on you won't need to use third-party plugins to achieve this functionality, the Product Swatches module enables you to create 4 different swatches types and display them in an eye-catching way:
colors,
images,
buttons,
radio.
Check out the support documentation on how to use the new Product Swatches module.
What Makes Ocean eComm Treasure Box Different
Custom eCommerce websites are definitely not a novelty. However, we'd like to change your experience with custom eCommerce sites, whether you're a developer, freelancer or a small business owner.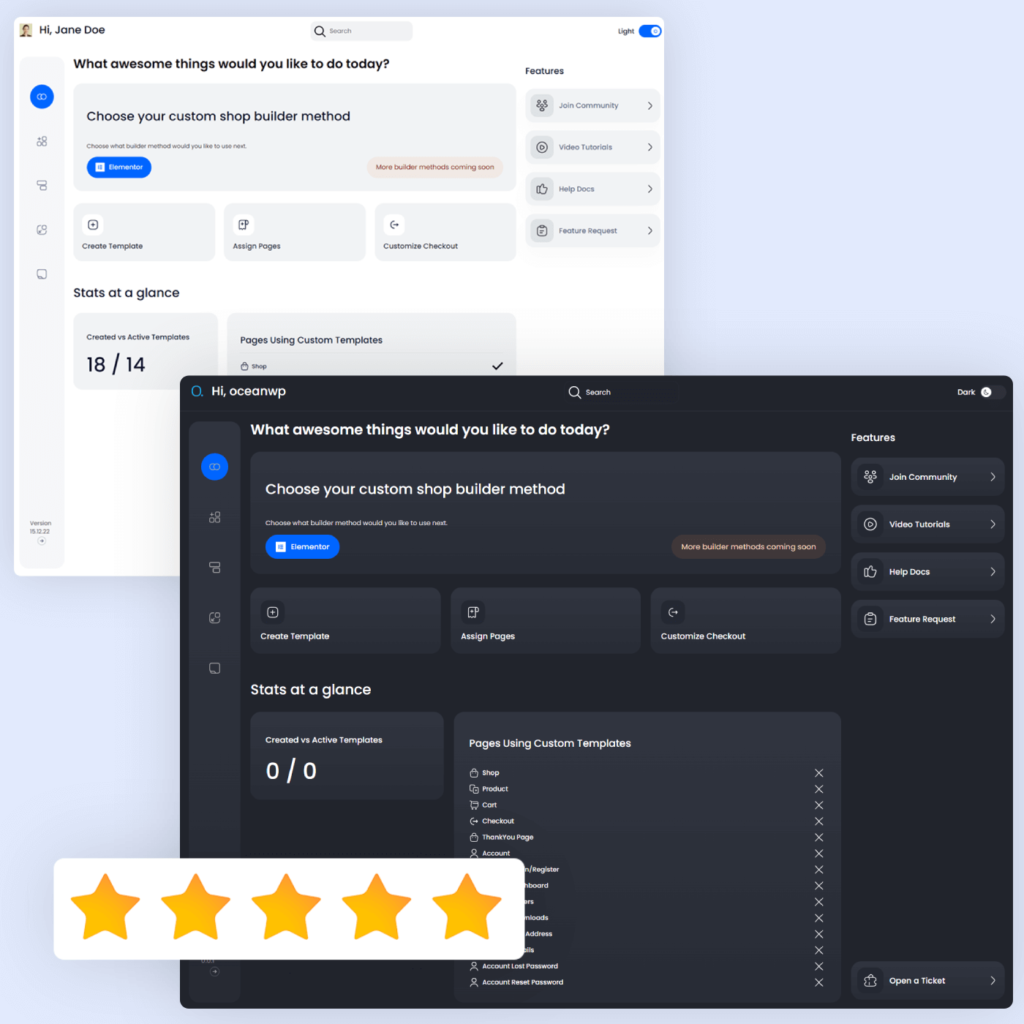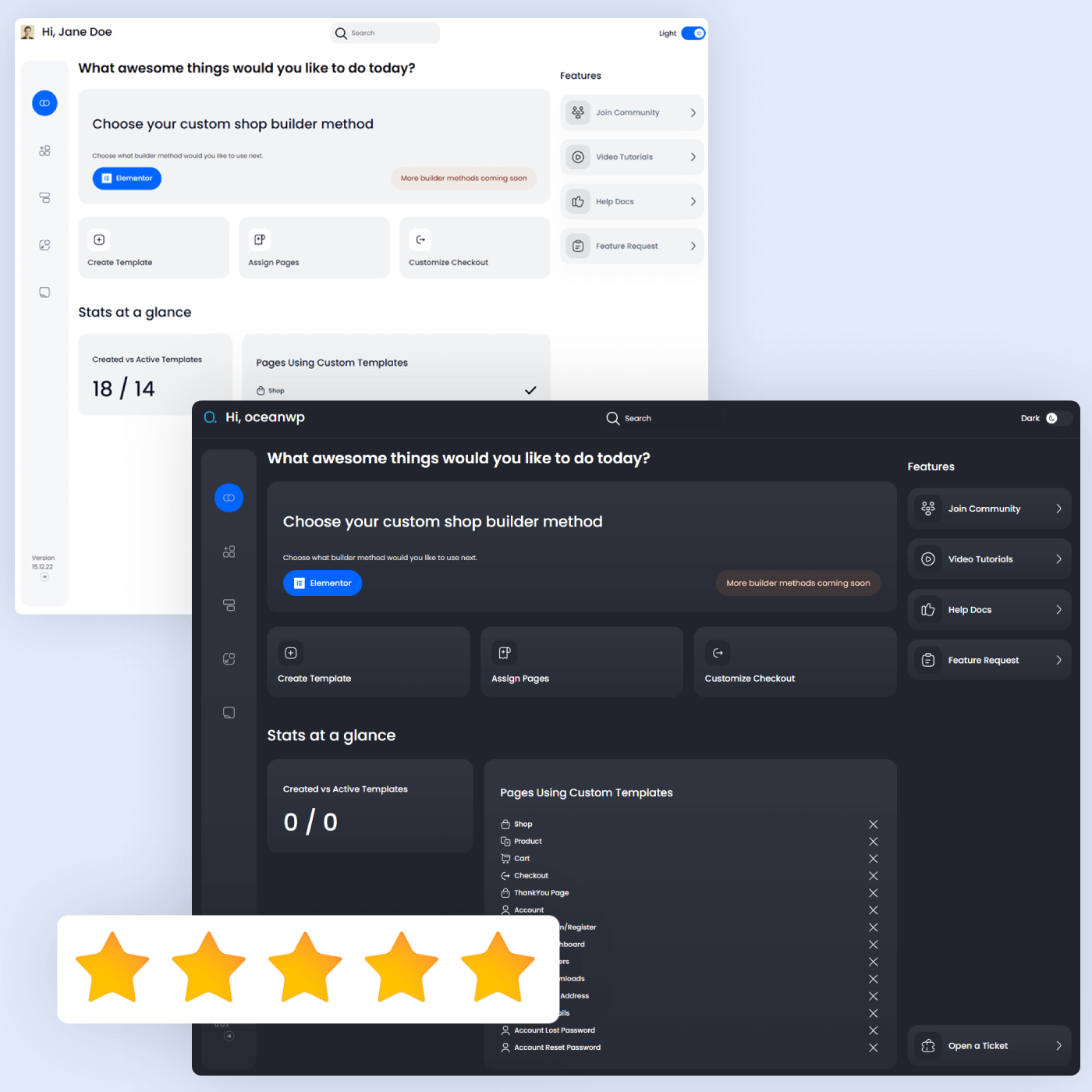 Thanks to the feedback from our users and customers, we've come up with a short list of items that makes Ocean eComm Treasure Box addon for WooCommerce different.
Author Reliability
The Ocean eComm Treasure Box addon is brought to you by the OceanWP team – the team that's been handling the OceanWP free WordPress theme, free and premium Ocean plugins for WordPress for you since 2016. With 700K+ active installs, and over 5400 WordPress reviews, the OceanWP theme is the best and top-rated free WordPress theme.
OceanWP is a registered trademark within the United States Patent and Trademark Office.
Product Stability
Product quality is our priority. Stable products enable you to worry less about your sites and dedicate your time to your business alone.
Are we perfect? As about everybody else. But are we always going to strive to do more and do better? Yes.
Customer Support Quality
The OceanWP tech support team is rated as one of the most dedicated, friendliest and fastest support teams there is. Whether you're a free or premium user, you can always count on support for OceanWP products.
Customer Success Oriented
Your success is our success. On top of the dedicated support, we're also involved in helping you beat all obstacles surrounding WordPress or websites through various webinars, workshops and courses.
OceanWP products are specifically designed for you and we're always open to listen to your suggestions and ideas for improvements and new features.
Combining the Best OceanWP Features for WooCommerce With the New Ocean eComm Treasure Box Addon
The OceanWP theme is one of the top choices for small business owners and developers thanks to its various customization and styling options features for WooCommerce which are 100% free.
Such free OceanWP WooCommerce customization features include but are not limited to:
archive and single product loop builders,
multi-step checkout,
menu cart and mini cart,
dedicated WooCommerce sidebar,
conditional logic for pricing and Add to Cart,
Ajax Add to Cart,
sticky Add to Cart (Floating Bar) and more.
This means that absolutely everyone is able to build a complete and functional eCommerce website by just running the OceanWP theme. Now we're equipping you to do even more.
Check out all OceanWP WooCommerce customization options for free. Download OceanWP, install WooCommerce, access the Customizer and fire away.
How You Benefit From a Custom eCommerce Website
If you're reading this post, it means you're already considering a custom eCommerce website and your reasons are more than valid.
While dedicated eCommerce platforms do appear like a perfect solution at first glance, you already know that option is not only a foe to your budget, but also not a long-term solution which is what you need, whether you're a freelancer, agency designer or a small business owner.
Just in case you need a little bit more reassurance, here are our top reasons on how you or your clients will benefit from a custom eCommerce website.
Search Engine Ranking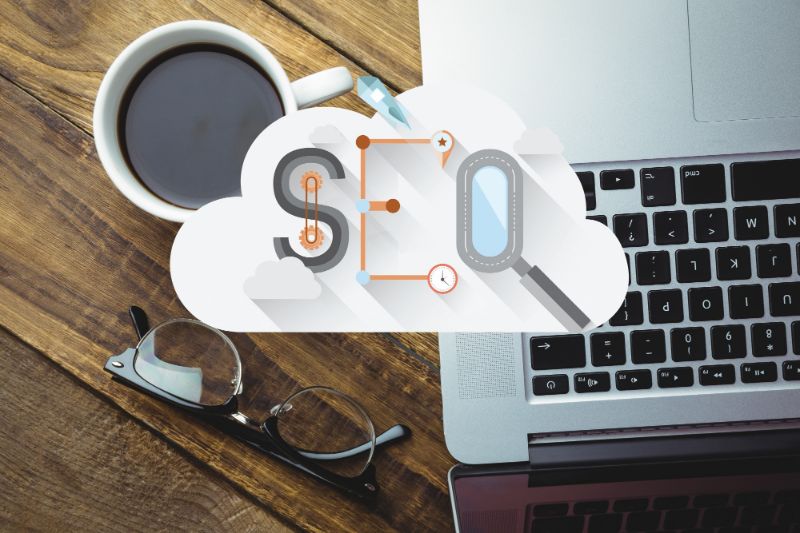 Absolutely each and every website made with WordPress has a 100% more chance (and options) to not only rank their custom eCommerce website for search engines, but also optimize it for higher ranking scores.
WordPress started out as a blogging platform and its ranking capabilities are undisputed. Posting, even small articles, on a regular basis will help you establish and reinforce authority and expertise through an information architecture thanks to specialized SEO.
Obviously, we don't need to inform you that the better your SEO scores are, the better the chances for increased sales, revenue and growth.
Immediate Cost Reduction and Affordability on Long-Run
While you'll definitely need to invest in hosting and some premium tools and perhaps even expert services that will help you get a tailored custom eCommerce website, all these options are not only cheaper to begin with but also more affordable on a long-run.
With dedicated custom eCommerce platforms, you need to be sure what you want and be sure now. Sadly, every little change will cost you additionally. On top of the unfortunate event of not being able to control your budget, let's not forget additional sales fees.
A custom eCommerce website puts you and only you in full control over your budget while offering you millions of customization options, content ownership, customer data insights and reports, design freedom, unlimited experiments and A/B testing. Plus, the entire revenue is yours and only yours.
Meet Unique Business Requirements
Sure. Some products are more or less the same, but each business behind those products is unique.
Naturally, a unique business has its own unique needs and requirements which only a custom eCommerce website can meet.
Besides branding, custom online shops allow you to grow along with your business growth. And in order for your business to grow, you have no other option but to meet unique market and customer demands.
Custom eCommerce sites do not only enable you to create a custom storefront design specifically tailored for your business, but also empower you to provide your customers with a one-of-a-kind shopping experience through full process control.
And just how do you provide customers with such experience? Well, there are numerous options, but the ones you should definitely put an emphasis is a stunning presentation, seamless checkout, custom shipping rules, variety of payment options and a buying process control.
Customization, Scalability and Optimization
Needless to say, a custom eCommerce website enables you to customize, scale and optimize your online store in every possible way – each and every time. Of course, without blowing your budget.
Only custom eCommerce websites provide genuinely customizable options and diverse opportunities for scaling. This means that your online store can be a top-notch mobile-friendly out-of-this-world place that fulfills customer needs.
A scalable and flexible eCommerce website that's ready to answer (modern-age) challenges and meet customer needs can only promise a few good things: fast return on investment, business growth and revenue increase – all of which on a budget you control.
Launch Your Custom eCommerce Website
Ready to launch an online store and build a custom eCommerce website? Perfect!
If you want to try and build a custom online shop on your own or design custom eComm sites for clients, then choose your Ocean eCommerce Premium Plan and get started.
On the other hand, if you want a custom storefront but feel like you need a little bit of expert help, don't dwell on it and check in with OceanWP Experts.
Ocean eCommerce Premium Plans
Ocean eComm Treasure Box Addon for WooCommerce is available under four different premium plans:
Store,
Entrepreneur,
Shopping Plus, and
Shopping Mall.
Each of the premium plans comes with its own benefits. Naturally, this is just the start and more features are planned and coming 😉
Ocean eComm Treasure Box Addon for WooCommerce is not and will not be a part of the Bundle.
But don't you think for one second we've forgotten about all our users. If you have an active Bundle license, you can immediately apply for a special loyalty award bonus and get any of the available Ocean eCommerce plans at an insanely discounted price!
If you're new to OceanWP or custom eCommerce websites, hurry up and make use of the exceptional early promo to celebrate the launch of our latest product – Ocean eComm Treasure Box.
There's a Groovy Treat!
Get any of the Ocean eCommerce premium plans during the eComm Launch Party promo and secure automated renewal fees at the same price!
You read that right. Not only will you enjoy our usual price-lock, but you'll also be relishing the discounted price-lock. General OceanWP price-lock terms are applied and your price-lock is ensured and secure as long as you have an active subscription that has never been cancelled (for the annual plans).
Lifetime plans are really, and we do mean really, lifetime plans. Once you get a lifetime plan, you're secured for life with a one-time payment only.
Let's get this party started!
Choose your Ocean eComm plan and build a custom eCommerce website with WooCommerce and Ocean eComm Treasure Box in a way you've always dreamed about.
Wait! There's more 🙂
Meet Ocean eComm Treasure Box Live
On Thursday, February 23rd 2023 6PM UK time, we'll be holding a live presentation & workshop for the Ocean eComm Treasure Box.
Join us while we unwrap the eComm Treasure Box features for you and show you how you can customize and optimize your eCommerce website. Register for the Unpacking eComm Treasure Box presentation now or use this online time and zone converter and save the date.
Happy Custom eCommerce!